Camelbak's All Clear Bottle Uses UV Rays to Disinfect Water
If you have a $100 to spend a water bottle, this is it: CamelBak's All Clear Microbiological UV Water Purifier. As its name suggests, this is an all-in-one purification and drinking system, handy when you're in the great outdoors. Gizmag describes how it works: Cleaning your water is quite simple: screw the cap in; hold [...]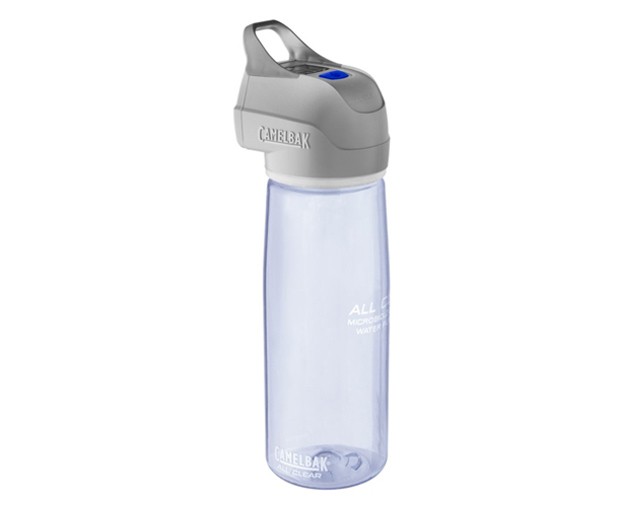 Image: Camelbak
If you have a $100 to spend a water bottle, this is it: CamelBak's All Clear Microbiological UV Water Purifier.
As its name suggests, this is an all-in-one purification and drinking system, handy when you're in the great outdoors. Gizmag describes how it works:
Cleaning your water is quite simple: screw the cap in; hold the power button down for two seconds; and rotate the bottle while the UV rays do their work. The LCD screen counts down and lets you know when the process is complete and the water safe to drink. The UV system is claimed to zap 99.9999 percent of bacteria, 99.99 percent of viruses and 99.9 percent of protozoa in 25 ounces (0.75 liter) of water in 60 seconds time.
The rechargeable battery that comes with the All Clear bottle is good for about 80 purification cycles per charge, and the purifying bulb can last 10,000 cycles — enough to clean three liters of water a day for almost seven years, according to Camelbak. The bottle will begin selling in March, which includes a protective case for the All Clear cap, mini-USB charging cable and a classic bottle cap for drinking.