California High-Speed Rail Route Set
The first route in California's massive high-speed rail project gets approval. Imagine hitting 220 mph between San Francisco and Los Angeles.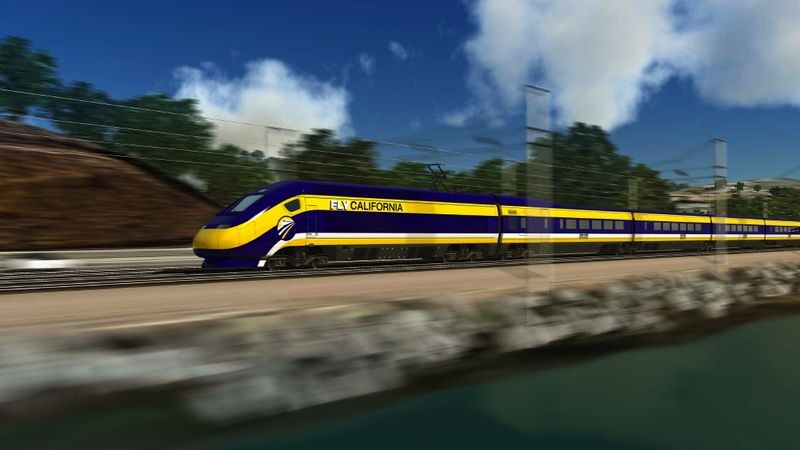 With years of discussions and billions of federal dollars behind it, a high-speed rail project in California is chugging forward. Officials at the state's High-Speed Rail Authority recently voted unanimously to approve a 54-mile track in the Central Valley. And that's just to start.
In 2008, Californians voted in favor of an 800-mile high-speed rail system. The plan is to take passengers from San Diego and Los Angeles all the way to San Francisco and Sacramento at speeds up to 220 miles per hour. Most of the technical details have yet to be determined, although the world's most well-known trainmakers, including China's CSR Corporation, are expected to compete for the project.
The state only has until September 2011 to finish environmental reviews for the project, so the High-Speed Rail Authority has to move quickly.
I'm not familiar with Borden and Corcoran, the two small towns at the ends of the new route that was just approved, although Fresno does fall between them. GOOD's Andrew Price wondered why the rail didn't concentrate on serving a more populated area first. The Authority officials apparently felt, since the federal funding has to be spent by 2012, that this rural route was more doable.
Related Links:
Big Pic: China's High Speed Train Breaks Another Record

Top 5 High-Speed Rail Jobs

Tech Video: Maglev Trains

Biodiesel Takes to the Rails
According to the Associated Press, the new Central Valley route will connect to an Amtrak freight rail line, and the construction is expected to create more than 80,000 jobs. Worst comes to worst and the whole rail project falls through, that route might still serve a purpose, writes John Cox in the Bakersfield Californian. Amtrak could potentially use the new tracks and slash travel time between Sacramento and the Bay Area by 22 to 28 minutes.
Having spent several years in Boston during the Big Dig, I'm not surprised to find that the high-speed rail project in California is extremely controversial. Billions of dollars are on the line. The scale is massive. Lives will change, and so will the landscape.
The traveler in me imagines how amazing it would be to ride so fast between L.A. and San Francisco. The realist in me knows that getting to that level of transportation won't be a breeze.