Sending astronauts to Mars within a decade is do-able, says
Apollo astronaut Buzz Aldrin, pointing to a plan for a deep-space exploration
vehicle and a heavy-lift rocket based on space shuttle systems.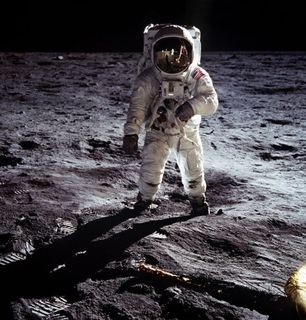 "I believe we can be well on our way to Mars by July 20,
2019 — which just happens to be the 50th anniversary of my Apollo 11 flight to
the moon," Aldrin wrote in an AOL News Opinion piece posted yesterday.
Aldrin, who landed on the moon along with Neil Armstrong as
part of the Apollo 11 crew, has been stepping up efforts to promote a manned
mission to Mars, which had been at odds with a NASA plan to return astronauts
to the moon instead. The Obama administration, however, wants to end the moon
initiative and has proposed a technology development program to prepare for
missions to Mars and other destinations in the solar system. Low-Earth orbit
transportation services would be turned over to commercial carriers. Critics
say the plan lacks a goal and vision.
Aldrin's proposal gives the U.S. space program a destination
and a timetable that he says is achievable because it builds on present-day
systems already in use in the space shuttle program as well as spares built for
the space station.
"Under my plan, commercial carriers would fly our astronauts
and cargo up to the space station, but NASA would stay in the human spaceflight
business by designing and building the Exploration Module … (which) could be built
using excess modules and parts left over from constructing the station itself,"
Aldrin wrote. 
The new ship would be built at the space station, and Aldrin
proposes NASA put off the impending retirement of the space shuttle fleet so
that it can haul equipment needed for the new ship into orbit.
I'm sure the plan will be picked apart, but it does seem to
offer something for everyone: Commercial firms get a shot at breaking the government's
monopoly on flying people to the space station; the shuttle retirement is
postponed, preserving jobs and America's access to space — at least in the
short term; and the U.S. human spaceflight program once again has a specific
goal — and timetable — to strive for.
"My only question," writes Aldrin, "is what are we waiting
for?"
(Photo: Aldrin on the moon in 1969. Credit: Neil Armstrong/NASA)