Build with the Biggest LEGO Set in the World
Who doesn't love building with LEGOs? Most of us have fond memories of creating our own little worlds with those little bricks while growing up, and even if you've left your LEGO-building days far behind, you can still get in on some world-changing construction activities with the largest LEGO set in the world - 8 [...]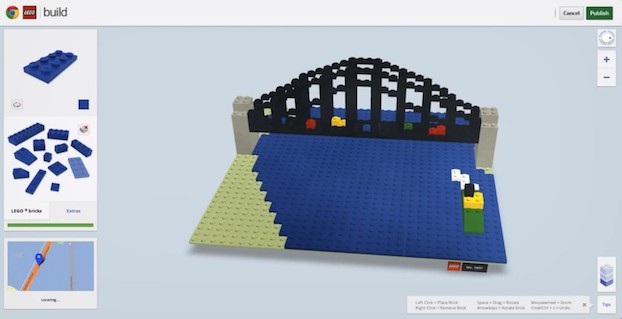 Who doesn't love building with LEGOs? Most of us have fond memories of creating our own little worlds with those little bricks while growing up, and even if you've left your LEGO-building days far behind, you can still get in on some world-changing construction activities with the largest LEGO set in the world –
Who doesn't love building with LEGOs? Most of us have fond memories of creating our own little worlds with those little bricks while growing up, and even if you've left your LEGO-building days far behind, you can still get in on some world-changing construction activities with the largest LEGO set in the world – 8 trillion bricks – thanks to Google Australia and Chrome.
"Build may look simple, but this collaborative 3D building experience would not have been possible a couple of years ago. It shows how far browser technology has come and how the web is an amazing platform for creativity. We made the bricks with WebGL, which enables powerful 3D graphics right in the browser and demonstrates the upper limit of current WebGL graphics performance. We then mixed in Google Maps (another Aussie invention) so you can put your creation in a LEGO world alongside everyone else's." –
Build with Chrome is the name of the game, and right now you can choose a virtual spot in Australia or New Zealand to start building your masterpiece. Pick a 32×32 plot on the map and choose from 12 different types of bricks (in 10 different colors) to begin your creation. Once you're done, you can publish it, save it, share it, and submit it to LEGO for display on the site.
Currently, the LEGO virtual world only covers Australia and New Zealand, but the plan is to open up more countries in the near future. So go ahead and close Firefox, because you're only going to get a chance to play with this LEGO set if you're using Chrome (hence the name).
This year marks the 50th anniversary of the LEGO brick in Australia, and Build with Chrome adds to the online celebration "LEGO Festival of Play".