Build a Solar-powered Trike for Under $600
A solar-powered trike designed and built by a student in Pakistan for less than $600 went from idea to completion in just 18 days. Farrukh Khan, of the University of Engineering and Technology Lahore, built a custom aluminum frame for the front part of the trike and used part of a bicycle frame for the [...]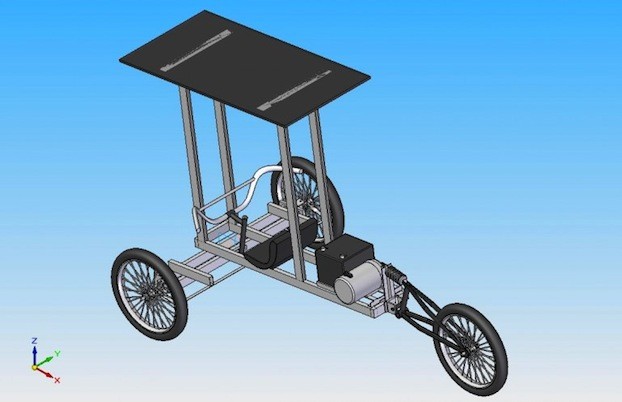 Solaron Solar Powered Trike
A solar-powered trike designed and built by a student in Pakistan for less than $600 went from idea to completion in just 18 days.
Farrukh Khan, of the University of Engineering and Technology Lahore, built a custom aluminum frame for the front part of the trike and used part of a bicycle frame for the rear. The power for it comes from a 40-watt photovoltaic panel on the vehicle's roof, which charges a 12v/80Ah dry cell battery, which in turn drives a 24-volt electric motor supplying power to the rear wheel.
The so-called reverse trike (because it has two wheels in the front and one in the rear) can reach a top speed of 30 km/h (about 18.5 mph), with a range of 70 km (43.5 miles) on a fully charged battery (without the PV panel).