Bringing the Bucks to Bike-Sharing
Bike sharing is convenient, fun, and cheap. A new software program aims to give cash back to bikers.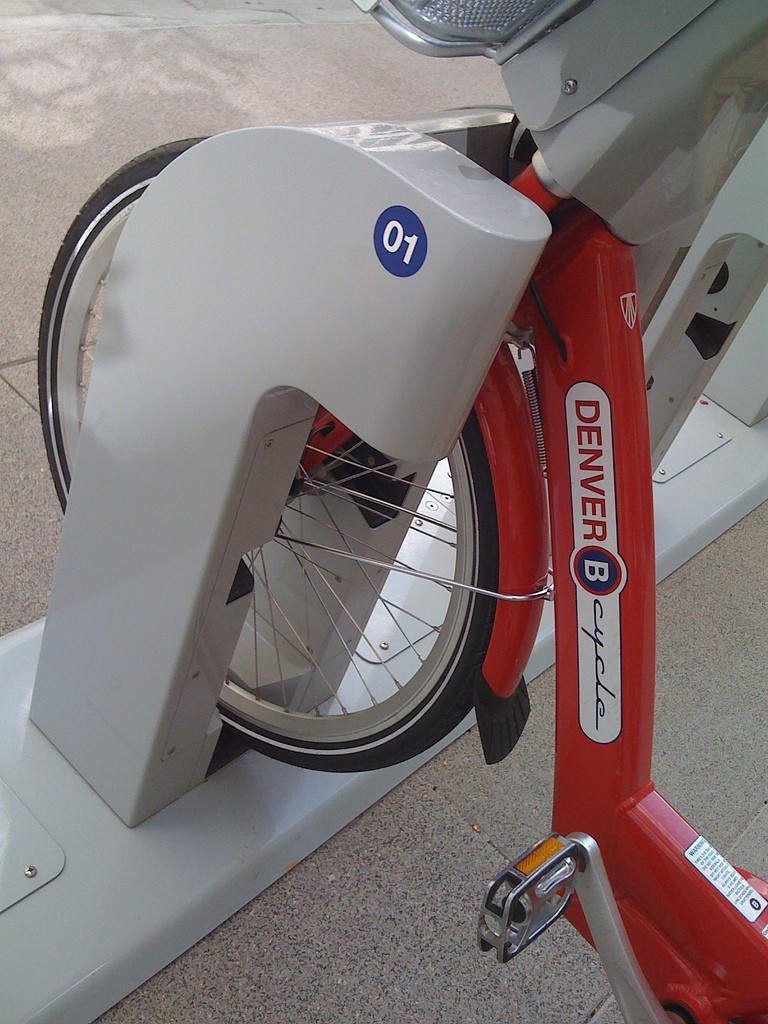 Bike-sharing programs are popping up around the country, and the high-tech bikes being used can provide precise information about the benefits. A startup called CityRyde wants to take bike sharing to the next level, using software to monetize the environmental benefits and put cash back in riders' hands.
In cities especially, biking is a convenient and affordable alternative to driving. The bike sharing program B-Cycle has been popular here in Colorado: The first season boasted more than 100,000 rides. Even though I own a bike, B-Cycle's slick new GPS-enabled bikes in Denver during the warmer months were undeniably tempting.
Despite their appeal in urban areas, bike sharing programs have struggled with funding. That's where CityRyde is hoping to come in. The company makes a software system called Inspire that can keep track of a user's transportation behavior, and tally corresponding carbon emissions or credits. That data would then get fed into a voluntary carbon credit program, potentially bringing revenue from a carbon market back around to those who participate.
"I was reading the statistic how the Paris bike share program had reduced car trips by 8 percent in one year," CityRyde COO Jason Meinzer recently told TreeHugger's A.K. Streeter. "It hit us — why shouldn't we be able to have revenue streams through carbon offset programs?"
Reuters blogger Felix Salmon explained that bike share programs would sell offsets to companies and individuals looking to improve their carbon footprints, raising revenue. Meinzer told Salmon he estimates that such a system could bring in between $25 to $100 per bike annually, translating into $1.2 million to $5 million for a program in New York City. So, a lot.
Admittedly, I'm skeptical about carbon markets and think carbon offsets are more about assuaging guilt than solving problems. Nevertheless, Streeter reported that CityRyde is working with Jürg Grütter, an expert who created a successful program in Bogota, where carbon credits are sold in an open commodities market. In the near-term, CityRyde is looking to form partnerships stateside that reward bikers who meet certain targets with coupons or free products.
Perhaps CityRyde's software could be used to calculate tax breaks for Americans who bike instead of drive. I'd love that. Any extra motivation for me to bike around town would be a fantastic. Coloradans assure me that snow gets cleared from bike lanes, but I'll be finding out firsthand.
Even though B-Cycle is hibernating for the winter, this sunny video shows how bike sharing works:
Photo: A B-Cycle bike in Denver, ready to ride. Credit: Betsy Kimak.