Brain Implants, Six-Fingered Hands by 2039
Forward-thinking attendees to the Computer-Human Interaction conference created an imaginary agenda speculating on what tech will be like 25 years from now. Continue reading →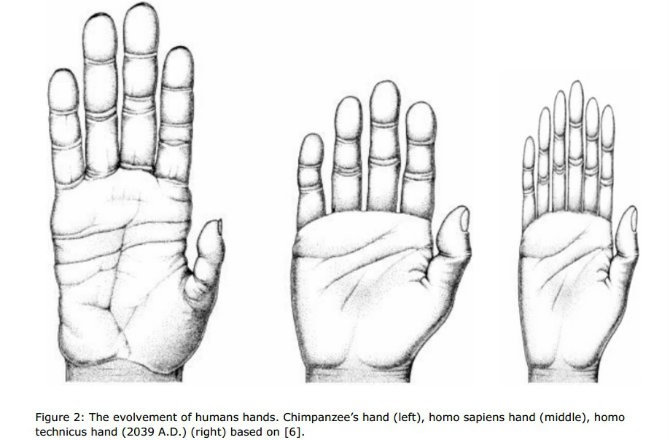 It's like Grandma used to say: If there's one thing better than an international conference on advanced computing, it's an international conference on advanced computing … from the future!
Visitors to this week's CHI 2014 conference in Toronto — CHI stands for Computer-Human Interaction — may have been surprised to see a published agenda from the year 2039. It turns out that a group of forward-thinking attendees created an imaginary conference agenda speculating on what the hot topics in computing will be 25 years from now.
Yes, You Will Obey Your Future Robot Boss
The CHI 2039 agenda presents "a curated collection of fictional abstracts for paper that could appear in the proceedings of the 2039 CHI Conference." The fifteen abstracts were submitted by researchers in the field, and the fake agenda actually stands on its own as a rather impressive piece of science fiction.
The topics range from bio-engineering to memory sharing, neural implants to inter-species collaboration. Much of the fun comes from reading the casually tossed-off details of life in 2039. For instance, self-driving cars are the norm 25 years from now, and people who insist on driving themselves are confined to recreation parks.
According to a submitted abstract from Hasselt University in Belgium, low-cost body augmentation means most people in 2039 have extra fingers, to better facilitate touchscreen usage: "In this paper we present the first large-scale study over a period of one year with 124 users that had 13.4 fingers in average."
Future Foresees Eyes In the Back of Your Head
The speculative agenda is the brainchild of Eric Baumer, research associate at Cornell University's Information Science department. "It's meant to be sort of the fringes of human-computer interaction research, what's really edgy or provocative," Baumer told New Scientist.
In any case, it's a lot of fun and suggests that within every computer engineer is a science fiction writer just waiting to break out. You can check out the 2039 conference agenda here.