Bored? RAVN Can Help You Find Something Fun and Exciting to Do
Ready to spice up your life with some adventure? Like the deals site zozi, which we've written about earlier, RAVN offers affordable packages based on fun experiences, from wine tasting in Napa to sandcastle contests. But one thing makes RAVN stand out. Like every startup, mom-and-pop shop and giant corporation, RAVN's social. The platform integrates [...]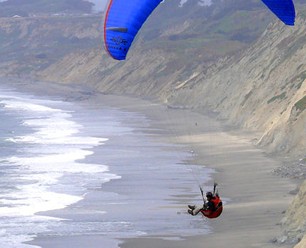 A tandem paragliding deal on RAVN
Ready to spice up your life with some adventure?
Like the deals site zozi, which we've written about earlier, RAVN offers affordable packages based on fun experiences, from wine tasting in Napa to sandcastle contests.
But one thing makes RAVN stand out. Like every startup, mom-and-pop shop and giant corporation, RAVN's social. The platform integrates Facebook Connect, incorporating users' and their friends' interests and social graphs.
"We believe all activities are better with people you know, so we purposely tried to add some social features to the site, even though our main goal is to make every existing activity bookable on our site," said co-founder Dennis Liu.
RAVN targets its recommendations based on the interests of users and their friends. Personalized emails from the company are catered to mutual interests between friends, so they can plan activities together. Integration with Facebook Timelines allows users to share actions related to RAVN — eg. when you 'like' an experience, or complete a RAVN activity — with friends on the social network.
"It's a great way to track the activities you've done and want to do in the future," Liu said.