Boeing to Bring Space Taxis to Old Shuttle Hangar
The program, in one of the space shuttle's processing hangars, is a glimpse into future public-private ventures.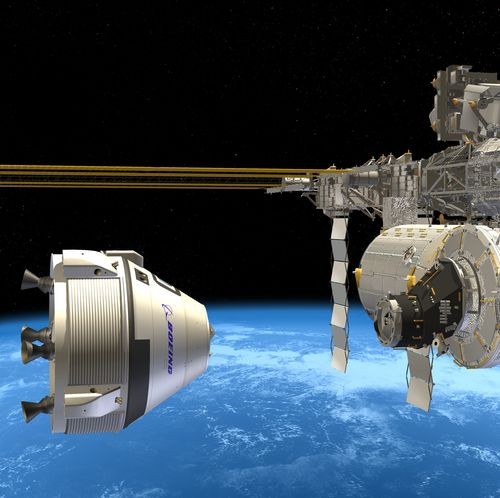 Boeing plans to bring its space taxi work to Florida, setting up shop in one of the space shuttle's processing hangars under an innovative three-way partnership that could serve as a model for future public-private ventures.
The company will lease the Orbiter Processing Facility Bay 3 from Space Florida, a state-backed economic development agency charged with boosting space business.
NEWS: Company Books Ride to the Moon
Space Florida on Monday signed a 15-year agreement with NASA for access to the hangar, making the state responsible for maintenance and other operational costs. With the space shuttle's retirement this summer, the processing hangar is among dozens of facilities at the Kennedy Space Center that the U.S. government no longer needs nor has the money to maintain.
NASA is looking to reposition much of its Florida spaceport to serve an array of customers, including commercial entities. The agreement with Space Florida and its new tenant, Boeing, is the first big step in that plan, a point underscored by the appearance of Florida's governor, NASA's deputy administrator, state and local legislators, Boeing executives and other VIPS gathered at the shuttle processing hangar Monday to announce the new project.
NEWS: NASA Launches Private Firms Into Space Race
"It sort of gives you goose bumps standing here where the space shuttle used to be," said Florida Gov. Rick Scott. "It's more fun to talk about the future than what we've done in the past."
To lure Boeing to Florida, Space Florida is offering up to $50 million in incentives that will be tied to the company reaching specific employment milestones and/or capital investments, Space Florida president Frank DiBello said during a conference call later with reporters.
If the space taxi project goes as planned, Boeing says it will employ about 550 people in Florida by the end of 2015. The program however, is dependent on NASA's continued support of the Boeing CST-100 spaceship, a seven-person capsule designed to launch on top of an Atlas 5 rocket.
Boeing, which wants to manufacture, test and operate the spaceships in Florida, is one of four firms receiving NASA funds to develop space taxis. The others are Space Exploration Technologies, or SpaceX, which is developing a rocket and capsule called Dragon; Sierra Nevada Corp, which is developing a winged spaceship called Dream Chaser that resembles a miniature space shuttle; and Blue Origin, which is owned by Amazon founder Jeff Bezos and which initially is concentrating on suborbital flight.
The Obama Administration is requesting $850 million this year to invest in commercial passenger spaceships. With the shuttle program's end, the United States is dependent on Russia to fly astronauts to the space station, a service that costs about $350 million per year. NASA hopes that by supporting commercial initiatives, a new non-government owned system will be ready to fly before the end of 2016.
The next round in NASA's Commercial Crew Development program is due to begin in December.
NEWS: Meet the Man Who Wants to Mine the Moon
DiBello said Space Florida's arrangement with Boeing is not exclusive.
"We are looking at a number of other facilities that could be available for commercial use," DiBello said.
(Artist's rendering of Boeing's space taxi — made in Florida. Credit: Boeing)