Blind Man Drives to Taco Bell in Google's Autonomous Car
Bit by bit, Google is advancing its self-driving car. The fleet of autonomous Priuses has logged over 200,000 miles, with a human driver at the wheel, ready to jump in if something goes wrong in traffic. Now the technology has taken another step, one that showcases just how much of an impact it could have [...]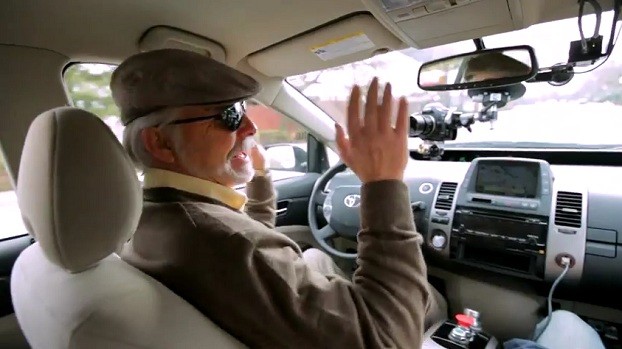 Steve Mahan gets driven to Taco Bell by the Google car. Image via YouTube screenshot.
Bit by bit, Google is advancing its self-driving car. The fleet of autonomous Priuses has logged over 200,000 miles, with a human driver at the wheel, ready to jump in if something goes wrong in traffic. Now the technology has taken another step, one that showcases just how much of an impact it could have on modern society: It's driven a blind man to Taco Bell.
The car, with Google technicians along for the ride, took Steve Mahan, who has lost 95% of his vision, to get some fast food, pick up clothes at the dry cleaners and then head home again. In the description of the below video, Google notes that the route was "carefully programmed."
But as Autopia points out, the need to program a complicated route before going anywhere is one of the hurdles the autonomous car will have to overcome, along with legal questions of liability in case of an accident and various safety concerns. Nonetheless, Google says, this is the future:
We organized this test as a technical experiment, but we think it's also a promising look at what autonomous technology may one day deliver if rigorous technology and safety standards can be met.