Blind Chinese Activist: How Can U.S. Embassy Shelter?
Although embassies are required to respect the internal affairs of a local government, human rights concerns can take special consideration.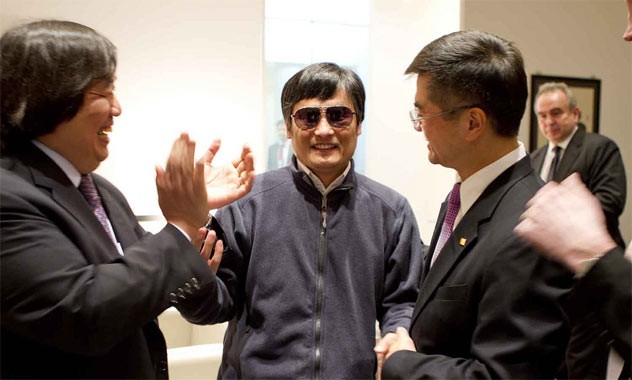 The ongoing crisis facing Chen Guangcheng, a blind human rights lawyer whose daring escape from house arrest has captured international attention and carved a diplomatic rift between the United States and China. But why was he able to take refuge there in the first place?
Chen initially sought refuge at the U.S. embassy in Beijing before returning. And although a deal struck with Chinese authorities regarding Chen's future would have kept Chen in China, the now internationally famous activist said he wants to temporarily relocate to the United States.
In a possible breakthrough on Friday, China's Foreign Ministry that said Chen could apply to study outside China.
China claims that the United States violated international law by harboring Chen. From Chinese Foreign Ministry spokesperson Liu Weimin to Xinhua News, the official state-run press agency of the People's Republic:
"Chen Guangcheng, a Chinese citizen, was taken by the U.S. side to the U.S. Embassy in Beijing via abnormal means, and the Chinese side is strongly dissatisfied with the move." … "The U.S. Embassy in Beijing has the obligation to observe relevant international laws and Chinese laws, and it should not do anything irrelevant to its function."
The 1961 Vienna Convention on Diplomatic Relations (PDF) is what governs the relationships between embassies and their host nations. Although this gives embassies the right to maintain independence from local police and security forces, and diplomats have immunity from prosecution in a host nation, at the same time Article 41 states that diplomatic staff of a foreign nation "have a duty not to interfere in the internal affairs of that State."
As noted by the BBC News, however, human rights concerns can take special consideration in cases like Chen's.
The International Covenant on Civil and Political Rights requires that an embassy consider whether a person is at risk of serious injury or worse.
Fleeing to a U.S. embassy suggests that Chen not only expected to be protected from possible harm, the evidence of which can be found in a YouTube video he posted following a four-hour beating both he and his wife received during their house arrest. Chen also must have believed the United States would negotiate on his behalf.
It's not the first time a foreign national has sought shelter in a U.S. embassy. In fact, a generation ago, Fang Lizhi, an astrophysicist and activist accused of being behind the Tiananmen Square unrest protests in 1989, stayed with an American ambassador for more than a year before taking up residence in the United States.
As BBC News notes, the longest anyone has ever taken shelter in a U.S. embassy was 15 years, when Cardinal Jozsef Mindszenty remained on the grounds of the U.S. embassy in Budapest due to his opposition to Communism.
Chen, born blind to a peasant family living in Shandong Province, China, is a self-taught attorney who worked on behalf of women forced to undergo abortions and sterilizations to comply with the country's one-child policy.
He was arrested in 2006 on inciting a mob and damaging property, a false accusation for which he was sentenced to four years in jail. Upon release, Chinese officials place him under house arrest, where he remained until his escape.
Photo: Chen Guangcheng poses with staff at the U.S. embassy in Beijing, including U.S. Ambassador to China, Gary Locke. Credit: U.S. Department of State