Birding Now a High-Tech Hobby
In a connected, 4-G world, modern birdwatchers carry more than just a notepad and a pair of binoculars.
From Texas to Maine, much of the Eastern United States is gripped in bird fever this week, an annual burst of activity as millions of migratory birds return from their winter getaways in South America to revisit their summer feeding grounds in the United States and Canada.
Birders who follow these flying flashes of color are now using technology from high-definition radar to social media alerts to help them get an edge on their fellow hobbyists, and to provide biologists with key data about the birds' changing habitat.
Many birders are logging onto eBird, a real-time, online checklist and database launched by the Cornell Lab of Ornithology and the National Audubon Society. It allows people to note their sightings from around the world, sightings which are tallied into an interactive map. The geo-tagging function allows users to then see hot spots of bird sightings, like a birder's version of Google Maps.
Greg Miller of Sugarcreek, Ohio, uses Twitter, Facebook and eBird to keep track of his bird sightings. He often posts photos to Facebook of unfamiliar birds or ones that may have unusual markings for that species.
A semi-pro birder for decades, Miller's 1998 quest to record at least 700 bird species in a calendar year was turned into the Hollywood film "The Big Year" starring Jack Black as Miller.
"In 1998, I just had binoculars and a notepad," Miller said. "Now I have a GPS, cellphone and a laptop. These tools have dramatically changed the efficiency of birders."
Miller and thousands of other Midwest birders are headed this weekend to the "Biggest Week in American Birding," (#biggestweek) a 10-day event covering three counties of northwest Ohio, the self-described "warbler capital of the world." That corner of the state sits right in the middle of an important flyway, and open areas there serve as a rest stop for birds before they have to travel 26 miles across Lake Erie.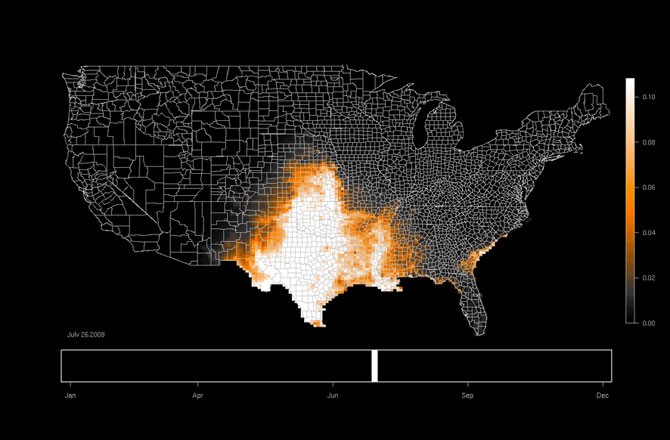 Spatio-Temporal Exploratory Model maps are built using information provided by birdwatchers through Cornell University's eBird stationary and traveling count checklists.Cornell Lab of Ornithology/eBird
Part of the contest is a competition to see how many birds you can spot, but it also brings together citizen scientists who are finding new kinds of technology that can be applied to birding. The latest idea is watching large groups of birds migrate at night the same tracking device that meteorologists use to follow tornados and thunderstorms.
"I you look about an hour after sunset or hour before sunrise, you will see lot of small birds migrate to avoid daytime predators," Miller said. "They come in such volume, you can see blue circles of radar and it's not rain. We can coordinate models of winds aloft, and use Nexrad to tell more accurately days that are going to be good to experience bird migration."
Miller says the University of Wisconsin's site is particularly good for spotting birds in transit. It uses Nexrad (Next-Generation Radar), a network of 160 high-resolution Doppler weather radars operated by the National Weather Service across the United States.
While hobbyists like Miller and others are finding technology a great way to rapidly shout "look at this bird!," scientists often use social media to help them get a better idea of changing migratory patterns, patterns that are feeling the effects of climate change.
"We found it to be incredibly effective to recruit and getting citizens excited about our programs," said David McGlinchey, a spokesman for the Manomet Center for Conservation Science, a private research center in Plymouth, Mass., that has been running banding programs and shorebird surveys for the past 45 years. "Twitter especially really gets people fired up about it."
While McGlinchey says technology and social media have made it easier for new birders to share the excitement of bird-watching, he says most of their large-scale scientific projects still require pre-Internet tools: a clipboard, binoculars and a long form to fill out detailing the bird's position and behavior.
"For data reporting, we're old-fashioned that way," McGlinchey said.