Best Cyclists Ranked Hotter in Blind Taste Tests
The link between sexiness and cycling success hints that male attractiveness might signal evolutionary fitness.
Rui Costa/Facebook
Portuguese professional cyclist Rui Costa ranked high for his looks in a recent study.
Olivier Labalette/TempSport/Corbis
Oct. 10, 2012
-- The U.S. Anti-Doping Agency is detailing its doping file on seven-time Tour de France champion and cancer survivor Lance Armstrong. In August, Armstrong decided to drop his fight against more than a decade of charges that he doped during his career. After Armstrong's announcement, the U.S. Anti-Doping Agency said it would ban the cyclist for life and recommend he be stripped of all his Tour de France titles. The agency contends Armstrong and five former cycling team associates engaged in a doping conspiracy from 1998 to 2011. Saying that fighting the charges was taking time away from his family and his cause raising money for cancer research, Armstrong said, "There comes a point in every man's life when he has to say, 'Enough is enough,'" Armstrong said in a statement. "For me, that time is now." Armstrong retired from cycling in February 2011. The 39-year-old athlete from Texas had initially retired from cycling in 2005, but returned in 2009 to finish third in the Tour his first year back. Here, Armstrong surges during the final stage of the 1999 Tour de France -- the first of his Tour wins.
Reuters/CORBIS
Armstrong won the Tour de France for a record-setting seven consecutive years from 1999 to 2005. Here Armstrong leads the pack as they climb the Col de la Croix de Fer during the10th stage of the 1999 Tour de France.
Reuters/CORBIS
When he returned to the sport in 2009 at age 37, he said it was partly to promote cancer awareness through his charity Livestrong. Armstrong was known for his grit and extreme competitive spirit. Here he leads Christophe Moreau of France during the 13th stage of the 2000 Tour de France.
Reuters/CORBIS
Armstrong's comeback from cancer and his consistent victories quickly made him a fan favorite. Here Armstrong is surrounded by fans on the Champs Elysees after winning the 2001 Tour de France.
Reuters/CORBIS
Armstrong's storied career is not without controversy. Although he has never failed a drug doping test, rumors about alleged use of illegal substances to improve his performance have dogged him throughout his career. Here, Armstrong listens to the U.S. national anthem in front of the Arc de Triomphe during the podium ceremony of the 2001 Tour de France.
Elizabeth Kreutz/Corbis
Former teammate Floyd Landis, who confessed to doping himself, has said that Armstrong systematically used performance enhancing drugs. Armstrong has continued to deny the claims, saying via his Twitter account last month: "I look forward to being vindicated." Here, media surrounds seven-time Tour de France champion after Stage 5 of the Tour Down Under on Jan. 24, 2009, in Australia.
Erich Schlegel/Corbis
Lance Armstrong at home in Austin, Texas, with one of his racing bikes Nov. 19, 2008.
Reuters/CORBIS
During the peak of his career, Armstrong managed to escape any serious injury from crashes, which can be common in the sport. But he did go down during this July 21, 2003 Tour de France race after his handlebars caught on a plastic bag carried by a spectator.
GUILLAUME HORCAJUELO/epa/Corbis
RadioShack team rider Lance Armstrong during the 16th stage of the 2010 Tour de France. Due to falls -- and likely age -- Armstrong failed to repeat his performance after returning to the sport in 2009.
Marianna Day Massey/ZUMA/Corbis
Armstrong's charity to promote cancer awareness, Livestrong, has raised more than $400 million. Part of the foundation's drive has included selling these rubber wristbands, made by Nike. At times the wristbands became ubiquitous, with many celebrities wearing the gold bands, including Bono, Alec Baldwin, Bruce Willis, Robin Williams, Matt Damon and Ben Stiller.
Oliver Hoslet/epa/Corbis
Armstrong mixed quite intimately with at least one celebrity when he was engage for a period to rock singer Sheryl Crow. Here the couple are shown after Armstrong won the team time trial fourth stage of the 2005 Tour de France. The pair called it quits in 2006.
Corbis
Armstrong drives on during the 12th stage of the 2002 Tour de France. He would win the stage and the Tour -- again. While the record books soon will likely no longer reflect that Armstrong ever won a Tour de France, Armstrong claims he is at peace with his legacy. "I know who won those seven Tours, my teammates know who won those seven Tours, and everyone I competed against knows who won those seven Tours...Nobody can ever change that," he said.

Women rate top male endurance cyclists more attractive than lower-ranked ones even without knowing who they are, a finding that sheds light on the mating game, a scientist said Wednesday.
Evolutionary biologist Erik Postma of the University of Zurich selected portraits of 80 cyclists who took part in the 2012 Tour de France, one of the most gruelling events in sport, and asked participants in an online survey to rate the faces for attractiveness.
A total of 816 people took part in the vote, nearly three-quarters of whom were women.
What emerged, says Postma, was a remarkable link between a rider's average success in the competition and his perceived good looks.
"Riders that performed consistently well across the whole race received the highest performance score," Postma said.
"This performance correlated well with their final placing" in the Tour de France.
The top 10 percent best-performing riders on average were considered a quarter more attractive than the bottom 10 percent, Postma found.
One example was Maxime Monfort, who came 3rd in terms of attractiveness and 6th in terms of performance.
Rui Alberto Costa -- current world champion -- came 9th in terms of attractiveness and 15th in terms of performance in the 2012 Tour.
Preference for faster riders was strongest in women who were not on the Pill, which affects hormone levels.
The riders' performance criteria was based on Postma's own yardstick, assessing riders for endurance across the race. He factored in a rider's time during the prologue, the two time trials and the overall race.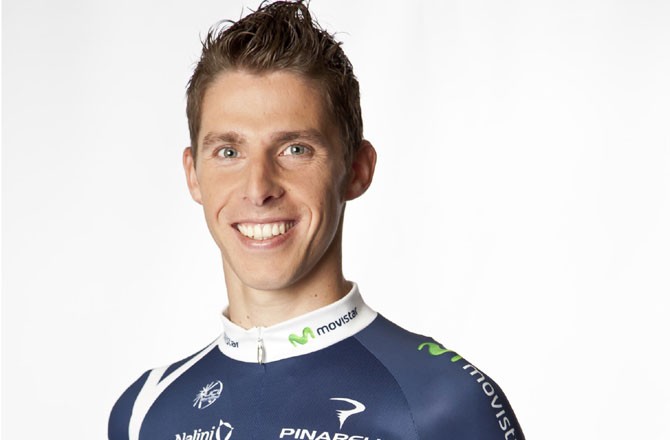 Portuguese professional cyclist Rui Costa.RuiCosta.com
In 2012, 198 cyclists started the race. Postma excluded from his batch all those who didn't finish and those who were pictured wearing sunglasses, caps, or beards in their photographs.
Also excluded were those pictured in unusual lighting conditions or not photographed from the front.
Those ruled out from the batch included the winner, Britain's Bradley Wiggins, who was wearing sunglasses in his picture.
This left 104 portraits that were standardised as much as possible, of which Postma randomly selected 80.
Most of the respondents knew next to nothing about professional cycling, additional questions on the survey found.
The three most famous riders in the 80 were known by less than eight percent of the raters -- and 59 out of the 80 were recognised by one percent or less.
Overall, the research suggests that endurance in a man is a big plus for women, a finding that Postma says is consistent with Darwinian theories about mating choice.
During the course of human evolution, hunting success -- and by extension, feeding a family -- depended on a man's ability to chase game for hours or even days.
"That's why endurance performance was a key evolutionary factor," said Postma.
The stamina so prized by women is likely to be reflected in facial attractiveness, goes his hypothesis.
There are also other factors for attractiveness, though, Postma stressed.
No. 1 hunk was Amael Moinard, who on Postma's performance card was ranked a less-than-stellar 42nd out of 80.
"This shows that there is no one-to-one relationship between attractiveness and performance, and there are many other things that affect both a rider's attractiveness and his performance," Postma said.