Belize's 'Blue Hole' Reveals Clues to Maya's Demise
Sediments drawn from the Blue Hole and other sites in Belize suggest that the Mayan civilization may have collapsed twice due to drought.
Tony Rath, Oceanic Society and LightHawk's 20
Aerial View of Turneffe Atoll, Belize Recent aerial surveys of Turneffe Atoll and the Belizean coastline have documented a record number of Antillean manatees: 507. To put that in context, the global adult population of this endangered subspecies is estimated to be less than 2,500 and declining. The region is teeming with other marine life as well. "Several marine mammal species occur in Belizean waters, including small cetaceans, like bottlenose dolphins, and whales, like humpbacks," Birgit Winning, president of the Oceanic Society, told Discovery News. She explained that this area is the focus of her organization's long-term marine research and conservation efforts. Turneffe is the largest and most biologically diverse coral atoll in the Western Hemisphere.
Tony Rath, Oceanic Society and LightHawk's 20
Manatee Among the Mangroves The waters off Belize are a marine life paradise for a few different reasons. "Many of the marine ecosystems in Belize remain relatively undisturbed," Bryan Wallace, chief scientist for the Oceanic Society, told Discovery News. "Some of the most important manatee habitats are protected and have some sort of active management." The relaxed manatee resting among pristine mangroves, seen in this photo, is evidence of the conservation programs' success.
Tony Rath, Oceanic Society and LightHawk's 20
Mother Manatee and Calf These three manatees, including a mother and a calf, were spotted during the aerial survey. "Belize does a pretty good job of managing many human pressures on its ecosystems, which are diverse and plentiful," Wallace said. Such pressures and threats include pollution, habitat degradation, boat strikes, incidental capture in fishing gear, and hunting for human consumption. "Specific to manatees, Belize has an active manatee standing network that rehabilitates injured manatees, and they have set up manatee sanctuaries in areas of high manatee use," Wallace added. "However, it's important to remember that while Belize hosts more Antillean manatees than any other country in the region, the numbers are still quite low, so there is still much work to be done."
Tony Rath, Oceanic Society and LightHawk's 20
Dolphins in Paradise Numerous dolphins were also spotted during the survey. Although dolphins and manatees may be found in the same areas, they are not very closely related. Manatees are actually distant relatives of elephants. Both manatees and elephants have tough skin, "toe" nails on each forelimb, bristle-like hair, and teeth that are continuously being replaced.
David Burdick
Nurse Shark Sharks abound in the study region. "In Belize there are, among other species, bull sharks, Caribbean reef sharks and nurse sharks," Winning said. This photo shows a nurse shark. "Shark predation on manatees does not seem to be a population threat," she continued. "Human activities are the main threats."
Zac Wolf
Whale Shark Whale sharks are yet another type of shark that frequents waters off of Belize. Healthy marine ecosystems often include predator sharks, which can feed down the food chain.
R. Ginsburg
Sponge on a Deep Reef Marine life near Belize extends to the sea floor. The sponge in this photo is attached to a deep reef. "Turneffe Atoll, in particular, harbors spectacular marine biodiversity because of its diversity of habitats," Wallace said. "These include coral reefs, seagrass beds, lagoonal areas, and mangroves. And the full expanse of the area encompasses a wide range of water depths, which also means lots of different types of habitats. Where there are diverse habitats that are relatively healthy, there should be lots of species."
Tony Rath, Oceanic Society and LightHawk's 20
Belize's Great Blue Hole Here, the aerial survey team flies over Belize's Great Blue Hole. This stunning submarine sinkhole was formed during several episodes of glaciation when sea levels were much lower. As the ocean rose, the caves were flooded. The site was made famous by Jacques-Yves Cousteau, who declared it one of the top ten scuba diving sites in the world.
Tony Rath, Oceanic Society and LightHawk's 20
Searching for Mammals Scientists regularly monitor the region, hoping to better document and understand the species there. Aerial surveys form only part of the process, particularly in terms of the recent manatee count. "We need to ground-truth the aerial survey data to get a better idea of population numbers in Belizean waters, and we need to understand better how and why manatees are using different areas in Belize," Wallace said. "Regardless, it's encouraging that so many were spotted in these surveys because it gives us something more to work with for future research and management."

The ancient Mayan civilization collapsed due to a century-long drought, new research suggests.
Minerals taken from Belize's famous underwater cave, known as the Blue Hole, as well as lagoons nearby, show that an extreme drought occurred between A.D. 800 and A.D. 900, right when the Mayan civilization disintegrated. After the rains returned, the Mayans moved north — but they disappeared again a few centuries later, and that disappearance occurred at the same time as another dry spell, the sediments reveal. [In Photos: Stunning Sinkholes]
Although the findings aren't the first to tie a drought to the Mayan culture's demise, the new results strengthen the case that dry periods were indeed the culprit. That's because the data come from several spots in a region central to the Mayan heartland, said study co-author André Droxler, an Earth scientist at Rice University.
Rise and decline
From A.D. 300 to A.D. 700, the Mayan civilization flourished in the Yucatan peninsula. These ancient Mesoamericans built stunning pyramids, mastered astronomy, and developed both a hieroglyphic writing system and a calendar system, which is famous for allegedly predicting that the world would end in 2012.
But in the centuries after A.D. 700, the civilization's building activities slowed and the culture descended into warfare and anarchy. Historians have speculatively linked that decline with everything from the ancient society's fear of malevolent spirits to deforestation completed to make way for cropland to the loss of favored foods, such as the Tikal deer.
The evidence for a drought has been growing in recent years: Since at least 1995, scientists have been looking more closely at the effects of drought. A 2012 study in the journal Science analyzed a 2,000-year-old stalagmite from a cave in southern Belize and found that sharp decreases in rainfall coincided with periods of decline in the culture. But that data came from just one cave, which meant it was difficult to make predictions for the area as a whole, Droxler said.
The main driver of this drought is thought to have been a shift in the intertropical convergence zone (ITCZ), a weather system that generally dumps water on tropical regions of the world while drying out the subtropics. During summers, the ITCZ pelts the Yucatan peninsula with rain, but the system travels farther south in the winter. Many scientists have suggested that during the Mayan decline, this monsoon system may have missed the Yucatan peninsula altogether.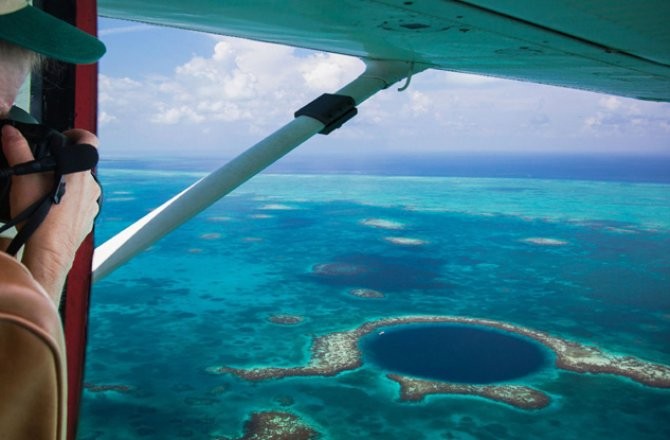 Tony Rath, Oceanic Society and LightHawk's 20
Deep history
To look for signs of drought, the team drilled cores from the sediments in the Blue Hole of Lighthouse lagoon, as well one in the Rhomboid reef. The lagoons surrounded on all sides by thick walls of coral reef.
During storms or wetter periods, excess water runs off from rivers and streams, overtops the retaining walls, and is deposited in a thin layer at the top of the lagoon. From there, all the sediments from these streams settle to the bottom of the lagoon, piling on top of each other and leaving a chronological record of the historical climate.
"It's like a big bucket. It's a sediment trap," Droxler told Live Science.
Droxler and his colleagues analyzed the chemical composition of the cores, in particular the ratio of titanium to aluminum. When the rains fall, it eats away at the volcanic rocks of the region, which contain titanium. The free titanium then sweeps into streams that reach the ocean. So relatively low ratios of titanium to aluminum correspond to periods with less rainfall, Droxler said.
The team found that during the period between A.D. 800 and A.D. 1000, when the Maya civilization collapsed, there were just one or two tropical cyclones every two decades, as opposed to the usual five or six. After that, the Maya moved north, building at sites such as Chichen Itza, in what is now Mexico.
But the new results also found that between A.D. 1000 and A.D. 1100, during the height of the Little Ice Age, another major drought struck. This period coincides with the fall of Chichen Itza.
The findings strengthen the case that drought helped usher in the long decline of the Mayan culture.
"When you have major droughts, you start to get famines and unrest," Droxler said.
More From LiveScience:
History's 10 Most Overlooked Mysteries

10 Surprising Ways Weather Has Changed History

Amazing Caves: Pictures of the Earth's Innards
Originally published on Live Science.
Copyright 2014 LiveScience, a TechMediaNetwork company. All rights reserved. This material may not be published, broadcast, rewritten or redistributed.