Backup Solar Coming to New York, New Jersey
Residents devastated by Hurricane Sandy are now on a fast track for solar power. Continue reading →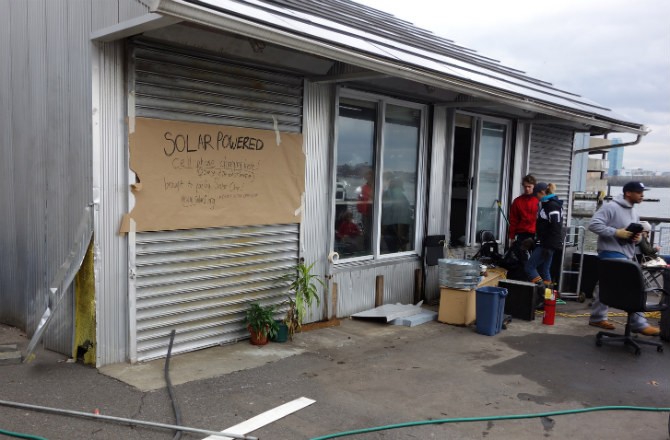 When Superstorm Sandy cut power to millions in New York, New Jersey and beyond, solar-powered generators helped some residents recharge. Now a new project aims to install backup solar energy systems in areas that remain vulnerable.
VIDEO: The Ocean is in Danger!
Low-income residents who were devastated by Superstorm Sandy are going to be first in line for a new solar power generation project called Solar for Sandy from the Clinton Global Initiative, the environmental organization Global Green USA and Ikea. The idea is that grid-tied solar will help lower bills and provide back-up in an emergency, according to Global Green USA's announcement.
The program wants to start by equipping at least five community facilities with solar energy systems that can offer lighting, mobile phone charging, heating, cooling, and refrigeration for medicine. A small-scale version is being installed in Far Rockaway, Queens. After that's completed, one for the Red Hook community in Brooklyn is scheduled to be installed by Oct. 29. Last fall, that neighborhood was hit hard by flooding.
This solar news comes in the wake of a $20 billion storm protection plan New York City Mayor Michael Bloomberg just announced that would bring flood walls, bulkheads and levees to the nearby coast for protection against future storms. Given that level of preparation, adding a little solar seems like a no-brainer. And solar tech gets better all the time. Today, Sharp introduced a solar cell with the world's highest conversion efficiency rate: 44.4 percent.
Excellent Idea of the Day: Mobile Solar Power
After Sandy, solar power became a necessity in some areas. Greenpeace brought in its Rolling Sunlight solar truck and several other groups, including Solar One, SolarCity and Consolidated Solar, also deployed mobile solar generation units. Making solar a permanent part of the rebuilding effort sounds smart to me. Enormous storms leave bleak landscapes behind, but the sun does shine again.
Photo: The green educational center Solar One provided solar power in New York City after Superstorm Sandy last year. Credit: Brennan Cavanaugh.