Baby Cheetah Cubs Born: Big Pic
This little guy is part of the first and only litter of cheetah cubs born in North America this year.
DCL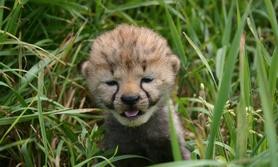 Adrienne Crosier, Smithsonian Conservation Biology InstituteDCL
June 20, 2011 -- This adorable ball of spotted fluff is one of five baby cheetah cubs born on May 28, 2011 at the Smithsonian Conservation Biology Institute in Front Royal, Va. The cubs are the only litter of cheetah cubs born in a North American zoo this year and the result of the Association of Zoos and Aquariums' Species Survival Plan breeding program.
This is the second litter born to six-year-old Amani, but her first attempt at motherhood. In December 2010, Amani gave birth to a single cub. In the wild, singleton cubs often die because their mother cannot produce enough milk to nurse. In captivity, zookeepers ensured Amani's singleton survived by placing it with another mother who had also recently given birth.
This time, zookeepers say Amani is a dedicated mother and has been seen grooming and nursing her cubs.
On average, only 30 percent of cheetah cubs survive in the wild. But in captivity, their survival rate jumps to 80 percent.
Cheetahs are listed as a vulnerable species by the International Union for Conservation of Nature. It's estimated that there are between 7,500 and 10,000 cheetahs left in the wild. And, although they are the fastest animal on land, they've fallen prey to hunting, human conflict, and habitat loss in their native Africa.
The Association of Zoos and Aquariums' Species Survival Plan for cheetahs has programs across the continent to ensure breeding and genetic diversity. The group met earlier this year to discuss how to bolster its breeding cheetah populations.
The Smithsonian Conservation Biology Institute is currently home to seven adult cheetahs but will be getting five more from other programs in the hopes of increasing its breeding population -- and increasing the likelihood of more adorable cubs like this one.
Source: Smithsonian National Zoo;