Baby Bears Born at Nat'l Zoo: DNews Nugget
Billie Jean gives birth to two rare Andean bear cubs at the National Zoo.
Baby Bears Born at Nat'l Zoo: Two rare
Andean bear cubs have been born at The Smithsonian's National Zoo, the zoo says in a press release, and
they are CUTE!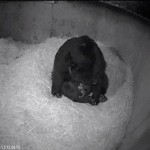 Six-year-old mama Billie Jean delivered the only surviving Andean cubs in a North American
Zoo overnight on Wednesday.
The genders of the cubs aren't known yet and won't be for several months as
zookeepers leave Billie Jean alone to tend to her new babies.
The bears won't be released to the public