Australia Heat Breaks Records
Extreme heat in Australia forced the government's weather bureau to upgrade its temperature scale, with new colors on the climate map. ->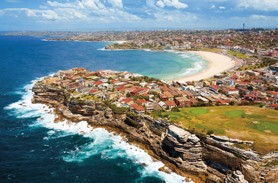 Australia Heat Breaks Records:
Australia Heat Breaks Records:
Extreme heat in Australia forced the government's weather bureau to
upgrade its temperature scale, with new colors on the climate map to
reflect new highs forecast next week.
Central Australia was shown with a purple area on the latest Bureau of Meteorology forecast map issued for next Monday, a new color code suggesting temperatures will
soar above 50 degrees Celsius (122 Fahrenheit).
The bureau's head of climate monitoring and prediction David Jones said the new scale, which also features a pink code for temperatures from 52 to 54 degrees Celsius, reflected the potential for old heat records to be smashed.
"The scale has just been increased today and I would anticipate it is because
the forecast coming from the bureau's model is showing temperatures in
excess of 50 degrees," Jones told Fairfax newspapers.
Australia's all-time record temperature is 50.7 degrees Celsius, set in January 1960 at Oodnadatta in the state of South Australia.
The nation as a whole experienced its hottest day on record on Monday with
the average maximum temperature across the country hitting 40.33
degrees Celsius, surpassing the previous mark of 40.17 degrees set in 1972.
That record was likely to have tumbled on Tuesday, Jones said, with
scorching temperatures across much of southeastern Australia including
in Sydney where the mercury topped 42 degrees.
More than 100 fires blazed in New South Wales, Australia's most populous state, where officials described the heat, wind and dry vegetation conditions as
among the worst the state had ever seen for wildfires.