Astronaut Completes First Space Triathlon at the ISS
For last weekend's Nautica Malibu Triathlon, there was one participant who competed about 240 miles above the rest of the racers, inside the International Space Station. Although she wasn't technically in the race, by finishing the full length, astronaut Sunita Williams become the first space triathlete. While astronauts do need to keep physically fit through [...]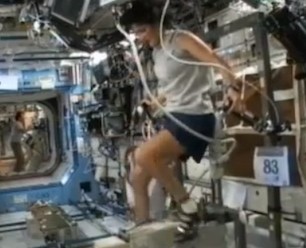 For last weekend's
For last weekend's Nautica Malibu Triathlon, there was one participant who competed about 240 miles above the rest of the racers, inside the International Space Station. Although she wasn't technically in the race, by finishing the full length, astronaut Sunita Williams become the first space triathlete.
While astronauts do need to keep physically fit through exercise while in space, taking on something like a triathlon isn't exactly common behavior for most crew members. But Williams, who previously ran the Boston Marathon at the Station back in 2007, was already an "avid athlete" and was able to set up an equivalent course inside the ISS in order to run this race.
A stationary bike and treadmill can seemingly replicate the cycling and running portions of the race for her (well, except for needing to be strapped down with bungees to run), but because of the lack of large bodies of water inside the ISS, the swimming portion was a bit different. Williams used a strength-training machine, called an Advanced Resistive Exercise Device (ARED), which simulated the water resistance she would experience if swimming on Earth.
Williams, who also happens to be the U.S. commander of the Expedition 33 crew at the International Space Station, completed the course with a time of 1:48:33. She can also be found on Twitter, so if you like tweets from space, and really cool pics of astronaut stuff, she's @Astro_Suni.