Citing "insurmountable evidence" that Armstrong doped, the athletic company drops the cyclist.
Lance Armstrong stepped down as chairman of his Livestrong cancer charity on Wednesday as Nike broke all ties with the disgraced cycling star over "seemingly insurmountable evidence" of doping.
Both developments came as the International Cycling Union (UCI) faced growing pressure to reveal how the 41-year-old American, a seven-time Tour de France champion, had been able to escape detection for doping for so long.
"To spare the foundation any negative effects as a result of controversy surrounding my cycling career, I will conclude my chairmanship," Armstrong said in a statement posted on the Livestrong website.
Armstrong had been an inspirational figure for millions after recovering from testicular cancer that had spread to his brain and lungs and then winning the world's most celebrated cycling event seven times in a row.
Those victories were stripped from Armstrong in August by the US Anti-Doping Agency (USADA) and Armstrong was banned from cycling for life once he chose not to fight the doping accusations against him, claims outlined in a report unveiled last week and presented to UCI.
More than 1,000 pages of evidence, including testimony against Armstrong from 11 former teammates and 26 witnesses in all, proved too much for sportswear giant Nike to continue to stand by Armstrong as it had for months.
"Due to the seemingly insurmountable evidence that Lance Armstrong participated in doping and misled Nike for more than a decade, it is with great sadness that we have terminated our contract with him," Nike's statement said.
"Nike plans to continue support of the Livestrong initiatives created to unite, inspire and empower people affected by cancer."
Livestrong's iconic yellow wristband was launched in 2004 in collaboration with Nike. More than 80 million Livestrong wristbands have been sold, donations that were in part inspired by Armstrong's now-tainted cancer comeback.
Livestrong is one of the best-known cancer charities in the United States, having raised nearly $500 million since it was founded by Armstrong in 1997.
Armstrong's farewell from the charity he founded comes two days before a 15th anniversary gala for Livestrong at which Armstrong is expected to speak in his hometown of Austin, Texas.
"It has been a great privilege to help grow it from a dream into an organization that today has served 2.5 million people and helped spur a cultural shift in how the world views cancer survivors," Armstrong said.
Armstrong has always maintained he did not take banned substances, but said in August he would not challenge USADA's allegations, saying years of accusations had left him weary and the fight would be too stressful and expensive.
USADA revealed its case against Armstrong last week, with USADA chief executive Travis T. Tygart saying Armstrong was at the heart of the biggest doping conspiracy in sports history.
"The evidence of the US Postal Service Pro Cycling Team-run scheme is overwhelming," Tygart said.
"The evidence shows beyond any doubt that the US Postal Service Pro Cycling Team ran the most sophisticated, professionalized and successful doping program that sport has ever seen."
Evidence included an expert's finding that Armstrong blood changes indicated doping and documents showing a payment to doping-linked doctor, Michele Ferrari. Other riders said Armstrong prodded them into doping to be supportive teammates.
"Lance Armstrong did not merely use performance-enhancing drugs. He supplied them to his teammates," the report said. "He was not just a part of the doping culture on his team. He enforced and re-enforced it."
Nike's distancing from Armstrong and claims of being deceived come from a firm that has a history of staying with embattled sports stars, having continued to sponsor golf star Tiger Woods after his infamous sex scandal.
The firm also renewed ties with American football star Michael Vick after his prison stay for his role in a dogfight gambling ring, saying Vick had made positive changes in his life.
Although fingers have pointed at Armstrong for years, the UCI, cycling's governing body, has never sanctioned him and it has since been suggested that some officials looked the other way.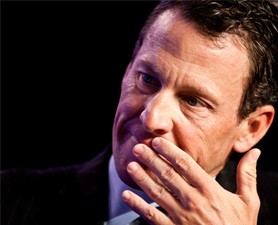 Armstrong was recently stripped of all titles and trophies due to a years-long doping scandal. Corbis