Simon Battensby/Getty Images
What do smart phones, electric vehicles and solar panels have in common? They all demand more and more battery power to keep our homes, jobs and vehicles running. Lithium ion is still the "gold standard," but researchers are looking at the entire periodic table for new combinations of elements that can conduct and store electrons in smarter ways. And the sooner they find it, the sooner society can get off fossil fuels and use more sustainable energy sources. "With the combination of new materials, new design concepts, and new production and manufacturing methodologies, I believe we will get there," said Esther Takeuchim, professor of advanced power systems at SUNY Buffalo, Here's a look at five new battery techs – some ready for market in the next year, others just over the horizon:
Leyden Energy
Lithium Imide When Leyden Energy's Noam Kedem was at the Consumer Electronics Show in Las Vegas earlier this month, he was struck by the fact that almost nobody could talk on the phone after 3 p.m. "Everyone was running from charger to charger," Kedem said. To meet the demand for more power and longer life, Fremont, Calif.,-based Leyden is using a unique electrolyte salt solution with existing lithium ion technology. Kedem says that doubles the number of laptop or cellphone battery charges from 350 cycles to more than 800. Kedem says their batteries can also operate up to 140 degrees Fahrenheit without producing hydrofluoric acid or the swelling that can occur when batteries heat up as they run multiple applications. Canada's Dr. Battery retailer began selling Leyden's first rechargeable battery pack, and the firm is beginning mass production of tablet and cellphone batteries this year. Kedem says the firm is testing a prototype electric vehicle battery using the same electrolyte platform.
Aquion Energy
Sodium Ion Pittsburgh-based Aquion Energy is betting on simple, non-toxic materials for their grid storage battery system. "It's made out saltwater, cotton, charcoal and dirt, actually lithium manganese oxide," said Ted Wiley, Aquion's vice president of business development. "Everything we're made out of is cheap and staying cheap." Aquion is building shipping-container-size storage cells for solar, wind and other renewable energy producers who need to store the electricity they make before selling it to the grid. It's a hybrid battery using the food preservative, sodium sulfate, and is based on research coming out of Carnegie Mellon University's school of engineering. This simple and inexpensive concept should also work to augment diesel generators in remote areas, Wiley said, or back up the power supply of homes and businesses.
Sakti3
Solid State Lithium Ion For electric vehicles, weight, range and safety are the big concerns. One idea is using solid state technology that doesn't have a liquid electrolyte solution for a lithium-ion fuel cell. "That gives our cells greater energy density and also potentially reduces system complexity dramatically," said Ann Marie Sastry, CEO of Ann Arbor-based Sakti3. The firm's batteries pack more power into less space, said Sastry, a University of Michigan professor of materials science and engineering. There's no flammable material either, something that's recently plagued the Chevy Volt's battery. GM and Khosla Ventures are backing Sakti3's research and development efforts. Meanwhile in Japan, Toyota announced recently that its own solid state battery with a 600-mile range will be ready for roll-out sometime around 2015.
IBM
Lithium Air One materials scientist told me that lithium air is the "grand slam home run" of energy density. Lithium-air batteries differ from lithium-ion batteries in that they use carbon for their positive electrode instead of metal oxides. Carbon is lighter and reacts with oxygen in the surrounding air to produce electrical current. Although it promises a 1,000-mile range instead of just 125 miles for electric vehicles, lithium air batteries have also proven to be unstable. The big problem is that lithium ignites when it contacts moist air. But IBM researchers in California and Switzerland reported this month that they have solved a key problem in the battery's electrochemistry by finding a different kind of electrolyte solution. IBM hopes to have a prototype lithium-air battery by 2013. Startups like Berkeley-based PolyPlus are also hunting for this "holy grail" of battery tech. Critics say that lithium-air research has been underway for two decades without complete success.
Wikimedia Commons
Magnesium Ion Some researchers are looking beyond lithium. The Department of Energy's Advanced Research Projects Agency for Energy (ARPA-E) is funding high-risk, high-reward technology, such as the magnesium ion battery being developed at Pellion Technologies, an MIT spin-off. Pellion says its batteries will have twice the energy density as existing lithium-ion batteries for both consumer products and electric vehicles. At the same time, Toyota researchers in Michigan say they are developing their own magnesium battery for an EV that can run twice the distance as current batteries on a single charge, but don't expect it until 2020. The race is on.

From the eco-friendly Chevy Volt to high-tech Boeing Dreamliner 787, recent high-profile battery fires are focusing attention on the risks and rewards of one of our most ubiquitous technologies: rechargeable lithium-ion batteries.
Not only do they run nearly all of our laptops and cellphones, but they are now increasingly used to power planes, trains and automobiles. Experts say demands to make vehicles lighter and more fuel-efficient are creating bigger demands on lithium-ion batteries, and that, in turn, is exposing them to risks of overheating. An episode with an overheating battery has now grounded Boeing's entire fleet of new Dreamliner 787 aircraft.
A smoking lithium-ion battery forced pilots to make an emergency landing of an All Nippon Airways 787 last week, while a second battery inside a Japan Airlines 787 parked at Boston's Logan Airport ignited on Jan. 7. Japanese investigators said Wednesday that the All Nippon battery was not overcharged, something that many experts originally thought could have been the problem, so the cause is still unclear.
Experts say the fire could have something to do with wiring or how the batteries were connected to remove heat that's generated during recharging.
"It's a multidimensional problem," said Venkat Srinivasan, director of the battery research program at Lawrence Berkeley Laboratory. "It's suggesting that something happened outside the battery that failed."
Nearly 20 years ago, a rash of exploding laptops almost derailed the rechargeable battery industry, but engineers figured out how to devise a cut-off switch that stopped the current after reaching a certain point. Today, scientists and engineers are working on alternatives to lithium-ion batteries that can both last longer and eliminate the so-called "thermal runaway" event when a battery begins to generate more heat, continuing a chemical reaction that results in flames.
Batteries work by converting a chemical reaction into electrical energy. Electrons form a circuit by flowing from a positively-charged cathode to a negatively-charged anode through an electrolyte, which can be either liquid or solid. The voltage difference between the two electrodes produces an electrical current, which is then harnessed to run the device.
Researchers at the University of Texas developed the first lithium-ion rechargeable battery in the early 1980s, but it took another decade before it became a commercial success.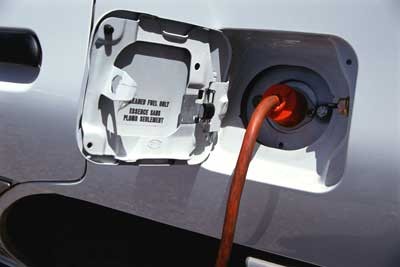 VisionsofAmerica/Joe Sohm/Getty Images
Academic labs and small private startups are incorporating elements like sulfur, zinc, magnesium or even air into the cathodes of new kinds of batteries, as well as finding new kinds of electrolytes that won't ignite. Steven Visco, president of Berkeley-based Poly-Plus Battery, is developing lithium-air, lithium-seawater and rechargeable lithium-sulfur batteries for both the Pentagon and Detroit.
"Thermal management of the individual batteries is generally handled by the battery pack design, but there is always the possibility of a flaw in cell manufacturing," Visco said in an e-mail to Discovery News. "However, all of these safeguards can be compromised when the drive to reduce battery cost (which is certainly important for EVs) leads to shortcuts in manufacturing."
In order to save weight (and money), the new Dreamliner was engineered with electronic rather than hydraulic control systems. That means its lithium-ion batteries had to produce a lot more power than before, according to Venkat Subramanian, associate professor of energy, environmental and electrical engineering at Washington University in St. Louis.
The Department of Energy recently awarded Subramanian and collaborators at the National Renewable Energy Laboratory $3.2 million to develop better monitoring systems to detect failures inside batteries before they occur.
"The better understanding we have of the internal states of the battery, the more efficiently we can use them," Subramanian said.
Japanese and U.S. investigators are now probing the manufacturer of the Dreamliner batteries, Japan-based GS Yuasa. The same firm won a NASA contract recently to supply lithium-ion batteries to the International Space Station.
Despite all the efforts to build a better battery, its likely that both our laptops and our vehicles will continue to run on lithium-ion for the foreseeable future, according to LBL's Srinivasan.
"We see things in the research pipeline, that will happen, but it will take a while to reach the marketplace," he said. Srinivasan also noted that for now, there is still a tradeoff between consumer demands for more power and a desire for more safety.
"The biggest trend is more energy. I want my cellphone to last all day. The more energy you put in, the more it can do bad things."