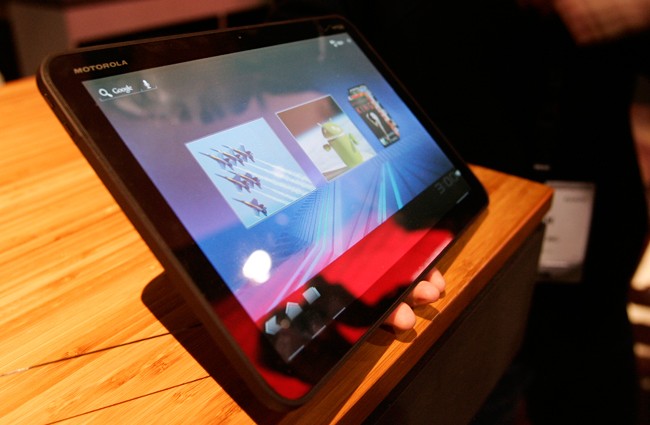 It would've been more appropriate to call this year's Consumer Electronics Show (CES) in Las Vegas the Consumer Tablet Show.
In the wake of Apple's iPad 2010 success with sales topping 10 million units, competing companies rolled out more than 80 tablet devices at the January electronics tradeshow. 
"At CES, it seemed like every major company introduced at least one new tablet to its line of products," said Jonathan Strickland, technology expert who covered CES 2011 for HowStuffWorks.com and the TechStuff podcast.
Indeed, tablets ran the alphabetical gamut from the Acer Iconia to Vizio Tablet, with the Blackberry Playbook, Motorolla Xoom, Samsung Galaxy Tab and many others in between. The anticipated third-quarter release of Google's new Android operating system, Honeycomb, also is expected to amp appeal for non-Apple devices. 

Perhaps anticipating this tablet boom, Forrester Research readjusted its 2011 tablet sales projections from 8.4 million units to 24.1 million.
"One major assumption that changed in our model is the replacement rate, which we think will be closer to that of MP3 players or iPhones than to that of PCs," Forrester analyst Sarah Rotman Epps wrote in a blog post explaining the new metric. "Although they are certainly used for productivity, tablets are proving themselves to be 'lifestyle devices' at home and at work, and as such we think consumers will upgrade to newer models more rapidly than they would a more utilitarian device like a PC."
Still undetermined: whether the rise of the tablet spells the demise of that "utilitarian" PC. Could the iPad and its host of competitors kill PC computing?
Although tablet sales projections are extremely promising, Strickland and other tech experts doubt the devices will completely eclipse PCs.
"Research firms like Gartner Inc. reported in 2010 that figures indicate tablet sales are eating into PC numbers," Strickland said. "But from a technological perspective, I don't think tablets can kill PCs simply because tablets aren't designed to handle everything PCs do well. Tablets supplement PCs but don't replace them."
Forrester research has predicted that one in three Americans will own a tablet by 2015, translating to 44 million in annual sales. But according to Gartner data, global PC shipments reached around 350 million in 2010, which means booming tablet sales are still fairly puny in comparison.
"The PC won't go away anytime soon, but its importance will diminish, quite dramatically during this decade," said Joe Wilcox, a tech writer for BetaNews.com. "The cloud-connected mobile device is the next major computing era."

Certainly, tablets beat out PCs for portability and entertainment value, but until they can match the content creation capabilities of laptops and desktops, they won't quickly kill off PCs. And right now, the tablet maintains a middle position in the computing market, nestled between pocket-friendly smartphones and full-power PCs.
"A tablet is another extra-carry device, and other then screen size it overlaps with most functions already available on the smartphone carried on belt, in back pocket or purse," said Wilcox, who ended up selling his iPad since he preferred his smartphone's mobility.
So while 2011 could very well be the Year of the Tablet as many analysts have forecasted, its ringing success won't simultaneously sound the death knell for the PC.
"No one should place any bets on the technology of the future," Wilcox said. "We've entered one of those compacted periods of rapid change."
Photo: Christopher Farina/Corbis