Are Comedians Prone to Depression and Suicide?
The apparent suicide of Robin Williams highlights the connection between comedians and depression. Continue reading →
Corbis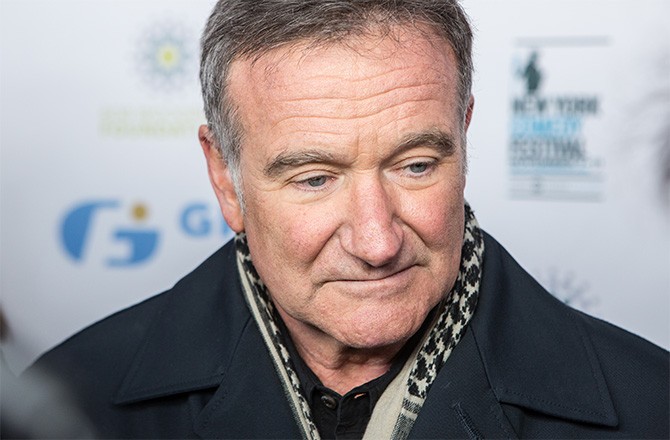 Robin Williams being interviewed at the Stand Up for Heroes event in support of injured military veterans in New York City on Nov. 8, 2012.Corbis
Oscar-winning actor and comedian Robin Williams will be remembered for his life of eccentric wit.
And his death, apparently by suicide after battling depression, highlights the possible link between psychological disorders and the ability to create such comedy.
Recent research suggests that manic thinking can inspire the out-of-the-box thinking that Williams was known for. Humor may also be used by comedians with depression to bring their spirits up, the researchers said.
NEWS: Why Are Musicians More Prone to Suicide?
"Although schizophrenic psychosis itself can be detrimental to humor, in its lesser form it can increase people's ability to associate odd or unusual things or to think 'outside the box,'" lead researcher Gordon Claridge of the University of Oxford told The Daily Mail. "Equally, manic thinking, which is common in people with bipolar disorder, may help people combine ideas to form new, original and humorous connections."
The researchers had 523 comedians complete online questionnaires measuring psychotic personality traits.
While comedians have long been rumored to struggle with manic depression or other disorders — at a comedy club in Los Angeles, comedians meet with psychologists at an in-house therapy program — it's difficult to document.
NEWS: Is Suicide a More Present Threat Than Murder?
In the British Journal of Psychiatry study, though, the researchers noted that comedians scored significantly higher for psychotic traits than the general population.
While reasons for connections between occupation and suicide are speculative, suicide researcher Steven Stack of Wayne State University's statistics show that suicides make up 3 percent of deaths of artists and performers, including comedians (suicides account for 1.5 percent of all deaths in the U.S.).
Williams, who was 63 years old, was found dead in his Northern California home on Monday morning. The impact of his passing extended far beyond the entertainment industry, even prompting the White House to make a statement. "Robin Williams was an airman, a doctor, a genie, a nanny, a president, a professor, a bangarang Peter Pan, and everything in between," said President Barack Obama. "But he was one of a kind. He arrived in our lives as an alien — but he ended up touching every element of the human spirit. He made us laugh. He made us cry. He gave his immeasurable talent freely and generously to those who needed it most — from our troops stationed abroad to the marginalized on our own streets."