Anti-Vaccine Doctor Planned to Profit from Scare
Just when it seems the scandal surrounding Andrew Wakefield can't get any worse, it does.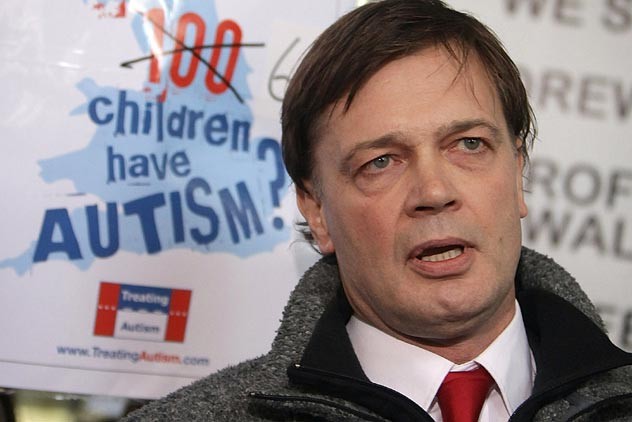 Almost exactly one year ago, on Jan. 28, 2010, Andrew Wakefield, the doctor whose 1998 research sparked international concern over whether childhood vaccines cause autism, was found guilty by a British panel of acting unethically in his research on autism. Shortly afterward, The Lancet, which originally published his findings, reviewed his original study and issued a complete retraction.
In May Wakefield was stripped of his license to practice medicine in the United Kingdom. Then last week an editorial in the BMJ (formerly known as the British Medical Journal) called his actions not merely poor research but "deliberate fraud."
Just when it seems the scandal can't get any worse, it does.
According to new research published in today's BMJ, Wakefield's motive for the fraud was money — and lots of it. Wakefield "planned secret businesses intended to make huge sums of money, in Britain and America, from his now-discredited allegations," according to a BMJ press release.
Conspiracy theorists are fond of saying "follow the money," and that's exactly what investigative journalist Brian Deer did.
In "Secrets of the MMR scare," the second part of a BMJ series of special reports on the Wakefield scandal, Deer shows how Wakefield's institution, the Royal Free Medical School in London, supported him as he sought to exploit the vaccine scare for his personal financial gain.
Deer reveals how Wakefield met with medical school managers to discuss joint business deals even while the first child to be fully investigated in his research was still in the hospital. Wakefield planned to make a fortune developing his own supposedly safer vaccines and diagnostic testing kits once the public's confidence in the safety of current vaccines was shaken.
According to Deer, Wakefield expected to earn over $40 million each year from selling his diagnostic kits — a fact at odds with Wakefield's portrayal of himself as a selfless researcher whose only motivation was helping children harmed by vaccines.
Wakefield's research has been questioned for years, and many large-scale studies have found no evidence of any link between vaccines and autism.
Still, Wakefield remains a hero to a small group of conspiracy theorists who claim that the medical establishment is trying to silence this supposedly brave doctor who dared to speak the truth.
The parents of children who have been needlessly injured (or even killed) as a result of Wakefield's fraud may feel differently.
Photo credit: Getty Images