Antares Rocket Test Flight On Hold
The debut launch of a new rocket built to fly cargo ships to the International Space Station is on hold after a last-minute technical problem. ->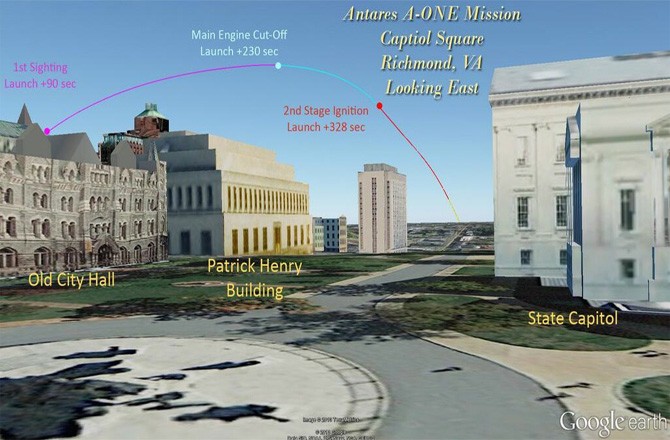 The debut launch of a new rocket built to fly cargo ships to the International Space Station is on hold after a last-minute technical problem.
Orbital Sciences Corp was just 12 minutes way from launching its new, 13-story Antares rocket from a new commercial spaceport on Virginia's Wallops Island when flight controllers discovered an umbilical line on the rocket's upper-stage had prematurely separated.
The launch team immediately scrubbed for the day.
NEWS: Private Rocket Ready for Critical Launch Test
The rocket, which had been filled with about 21,000 gallons of RP-1 — a highly refined kerosene fuel — and 41,000 pounds of liquid oxygen in preparation for blastoff. The propellants will have to be unloaded and technicians will have to gain access to the upper-stage of the 130-foot tall rocket.
The flight was not immediately rescheduled.
"You learn a little bit from every launch attempt. We'll take the lessons learned from today and move into another attempt as soon as it's safe to do so," said John Steinmeyer, a senior project manager with Dulles, Va.-based Orbital Sciences.
PHOTOS: Astronaut Guide: How to Train Your Dragon
The Antares rockets will fly from a newly built, $145 million launch pad that is part of the Mid-Atlantic Regional Spaceport,  a commercial complex located on the southern tip of NASA's Wallops Island Flight Facility on the Virginia coast, southeast of Washington DC.
The prospect of flying rockets within sight of DC was not lost on Orbital Sciences or NASA, which also is partnering with commercial companies to develop space taxis for astronauts. Government funding is a key part of the program.
The Wallops Island launch site typically has been used for smaller rockets that do not reach orbit for flying balloons and high-altitude science aircraft.
When it flies, Antares will be the largest rocket to ever fly from Wallops, and should be visible up and down the East Coast.
Image: Diagram showing the path of Antares over the Capitol. Credit: Orbital Sciences/Google Earth