Antarctic Fungus Survives in Mars-like Conditions
After living for 18 months in a Mars-like environment outside the International Space Station, some Antarctic fungi were still living and dividing when examined by researchers back on Earth.
NASA
Some Antarctic fungi were still viable after living for about 18 months in Mars-like conditions outside of the International Space Station.
Image: Scott Kelly and other members of the Expedition 45 crew watch "The Martian" on the International Space Station. Credit: Scott Kelly (Twitter)
Scott Kelly is a NASA astronaut working for a year in space on the International Space Station. Does he have the stuff of "The Martian,"
the highly anticipated Matt Damon movie to be released on Oct. 2
, chronicling the life of a stranded astronaut on the surface of Mars? While Kelly certainly isn't on his own in space, much of the work he is doing would be useful for a trip to Mars. Here are some of the things the astronaut is working on that Mark Watney (Damon's character in "The Martian") would appreciate.
MORE: NASA's Ultimate Space Twin Experiment
Image: An aurora that Scott Kelly and crewmates observed from the International Space Station in September 2015. Credit: Scott Kelly (Twitter)
The sun goes through an 11-year cycle of activity, and we are just past the peak of one of those cycles. The solar peak is a time when the sun unleashes more flares and coronal mass ejections (charged particles). When these particles hit the Earth's magnetic field, they can produce spectacular auroras.
But they also can give astronauts a higher dose of radiation.
The space station monitors radiation levels for astronauts close to Earth; in fact, one of the reasons Kelly was selected for this mission was he did not exceed the lifetime radiation levels allowed for astronauts. Radiation is expected to jump for those travelling outside of Earth's magnetic influence. Mars doesn't have much magnetic field to speak of, and the Curiosity mission is monitoring radiation levels on the surface to get more information for future human missions.
MORE: Killer Radiation: How to Protect Martian Astronauts
Image: Scott Kelly frequently tweets pictures of Earth observations. Many astronauts have cited looking at our planet as a psychological boost during long missions. Credit: Scott Kelly (Twitter)
Working in space is a harsh business. You're busy all the time, you're stuck in a small environment with several people, and your family and friends are far away. NASA keeps close tabs on its astronauts' psychological health through measures such as doctor calls with astronauts, and
having the astronauts keep journals
during their missions. This will especially be important for Mars, as astronauts will need to be even more self-sufficient due to the time delay in communications between planets. NASA has
an ongoing comm delays study
for astronauts doing simple tasks; these tasks and their effects on astronauts will be studied as the station work continues.
MORE: Space Radiation May Harm Astronauts' Brains
Image: Kelly responds to health questions via Twitter.
Microgravity is hard on your body. NASA has its astronauts exercise for a couple of hours a day, which seems to help counteract bone loss for missions of six months. But what about a year, or longer? That's part of what Kelly's mission is supposed to answer. Bones aren't the only things to worry about, either. Muscles shrink, eye pressure increases, your sense of balance changes. Even your immune system may be affected, something that
NASA is also looking at
in detail. So while we think of astronauts as boldly doing spacewalks and experiments on station, understand that they are also part of the experiment. Their very health is being watched for the benefit of future space missions.
MORE: Space Missions Turn Astronauts' Hearts Spherical
Image: Scott Kelly poses next to a group of fruit in August 2015. Credit: Scott Kelly (Twitter)
While Watney develops a certain affection for potatoes, Kelly recently posted a picture of himself looking pretty pleased next to a floating pile of fruit. It turns out that little comforts do go a long way for astronaut morale, and any nutritionist would tell you that a varied diet of healthy foods is good for you -- not just the freeze-dried stuff the Apollo astronauts survived on during their missions. NASA has an experiment in place to see how well
astronauts are meeting nutritional requirements for their work on station
, and also for their long-term health.
MORE: Real NASA Space Tech in 'The Martian'
Image: The space station crew sample ISS-grown lettuce for the first time in August. Credit: NASA
Astronauts are very tied to shipments from Earth right now in terms of eating ... but that is changing in a small way.
Thanks to an experiment called Veggie
, astronauts got to taste some food grown aboard the space station this summer. Lettuce, of course, does not an entire meal make. But as the movie Contact (1997) reminds us, it's through "small moves" that we learn about science. The hope is eventually this experiment will translate into a better way of harvesting crops beyond Earth. For Mars, we're even wondering how viable the soil could be to support plants.
MORE: 'Smart' LED Farming Could Make Space Veg Viable
Image: Kelly in a module of the International Space Station. Credit: Scott Kelly (Twitter)
Image: Scott Kelly, right, in 2011 with the Russian astronauts Oleg Skripochka, left, and Aleksandr Kaleri after six months aboard the International Space Station. Credit: Bill Ingalls/NASA
During a recent Twitter chat, Kelly was asked if he wanted to go to Mars. He said yes, as long as he could return. Getting to Mars and back will take hundreds of days of transportation, let alone the time on the surface. The gravity on Mars is less than 40% what we experience here on Earth. And unless spacecraft design changes substantially, the astronauts will be in microgravity on the way there and back. NASA has an experiment to see
how well (or badly) astronauts work on the surface shortly after landing
, an experiment that Kelly is participating in. This will be important not only for returning to Earth, but seeing how well a crew can get adapted to Mars after being in microgravity for the transit.
MORE: 3D-Printed Bubble House Made for Mars

After living for 18 months in a Mars-like environment outside the International Space Station, some Antarctic fungi were still living and dividing when examined by researchers back on Earth. This finding comes after examining two species of Antarctic fungi as well as lichens from the Sierra de Gredos (Spain) and the Alps (Austria), as part of the Lichens and Fungi Experiment (LIFE).
ANALYSIS: Space Fungus! Mold Attacks Space Station Plants
The samples were placed in the EXPOSE-E external platform facility on the ISS in 2009 and remained in space for 18 months. Half of the Antarctic fungi were exposed to an atmosphere similar to that of Mars, in a contained environment (mostly carbon dioxide with traces of argon, oxygen, nitrogen and water). Martian radiation was also simulated using optical filters. The other lichen were exposed to different conditions, such as the pure space environment.
The result? More than 60 percent of the Antarctic fungi cells, which generally shelter in rocks in the McMurdo Dry Valley, were still alive when examined by researchers. But only about 10 percent of those cells could still divide after exposure to Mars-like conditions. The Spanish and Alps lichen also showed more viability compared to the ones that had lived in a space-like environment.
VIDEO: Your Space Babies Would Die of Fungus!
Astounding as the finding is, co-researcher Rosa de la Torre Noetzel (of Spain's National Institute of Aerospace Technology) pointed out that the survival capacity of cells would likely decrease if they remained in Mars-like conditions. This would be, she said in an e-mail to Discovery News, "due to the accumulative dose of extraterrestrial radiation and to the simulated Mars atmosphere composition (high percentage of CO2)."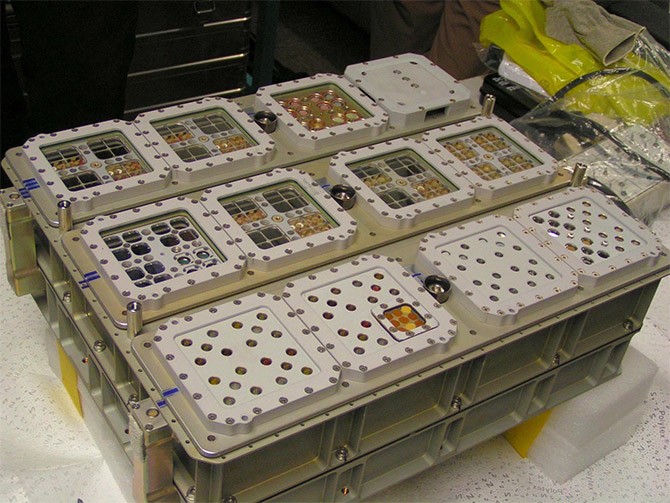 EXPOSE-R, one of the series of facilities that exposes samples to space conditions on the outside of the International Space Station.NASA
In terms of planetary protection, de la Torre Noetzel pointed out that previous space experiments provided data on some of the more space-resistant microbes, such as Bacillus subtilis 168 and Bacillus pumilus SAFR-032. While these spores can survive conditions such as vacuum, radiation and temperature fluctuations during a journey to Mars, UV radiation would eventually kill them unless they could hide in cracks or pits on the spacecraft surface.
NEWS: Could This Tough Bacteria Survive on Mars?
Landing probes that are shielded from these conditions inside atmospheric entry shields (such as rovers) could host the spores for long periods of time, as the spores would be protected during the journey to Mars. Also, if the lander has shielding against UV radiation, the spores are likely to last for longer. "In this context, cryptoendolithic fungi could survive a longer period to Mars UV irradiation, taking into account the protection of rock material," she added.
The team has a new experiment on a new generation of exposed facility, called EXPOSE-R2. The experiment is called BIOMEX and began in the summer of 2014. It will compare fungi and lichens with other organisms (such as bacteria, algae and mosses) exposed to space and Mars-like conditions.
"The work will start on the ground, when EXPOSE will be back on Earth (July 2016), trying to identify which of the organisms are particularly resilient, which strategy offers the greatest protection in space, and which biological substances would be suitable as reference markers in the search for life on Mars," de la Torre Noetzel wrote. "The results will help also to determine whether they might be able to survive on other planets."
ANALYSIS: Microbial Star Trekkers Survive 553 Days in Space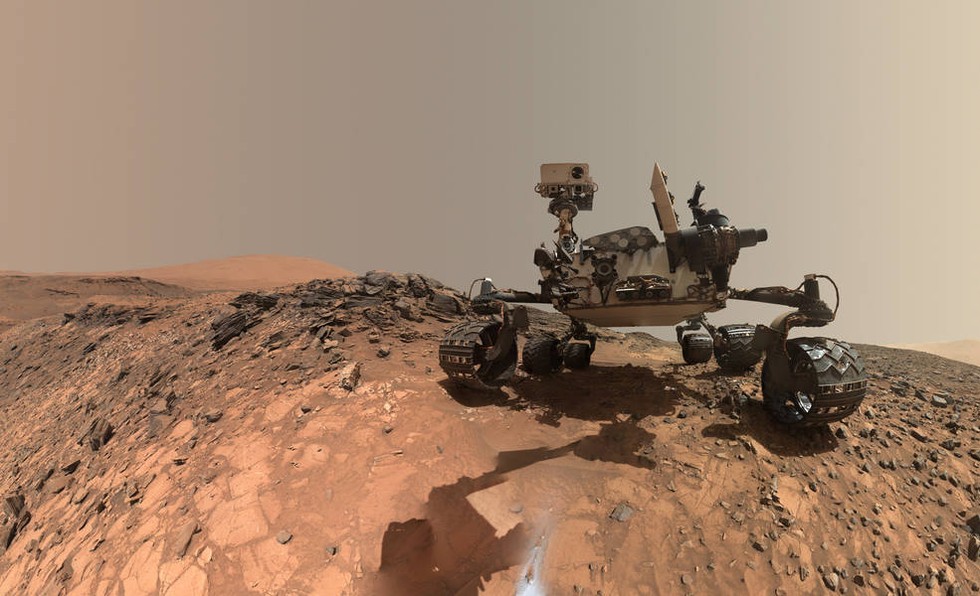 The Curiosity mission is just one of a series of Mars missions exploring the Red Planet's potential for habitability. NASA/JPL-Caltech/MSSS
Another recent study found a lack of microbes in certain Mars-like conditions on Earth. Specifically, the researchers detected no microbial activity in certain parts of the McMurdo Dry Valley, specifically in permafrost that remained at temperatures of about -25 degrees Celsius (-13 degrees Fahrenheit). However, there are sandstone boulders and cliffs in the same region where microbes were found.
MORE: How This Flower Was Saved From Space Station Mold
"The comparison of the different ecological conditions, in the same site both in soils and in the rocks, could provide evidences on the limits to be searched on Mars, which could form the boundaries for the existence of microbes on the planet," wrote Silvano Onofri, principal investigator for the LIFE experiment, in an e-mail to Discovery News.
"Also for these reason, microorganisms isolated from Antarctic rocks could be models for experiments in space," added Onofri, who is a professor of systematic botany at the University of Tuscany in Italy.