Animated Film Celebrates Orbital Haute Cuisine
The topic of orbital dining inspired a French filmmaker to create the charming animated short, "Un Petit Plat pour L'Homme" ("One Small Plate for Man")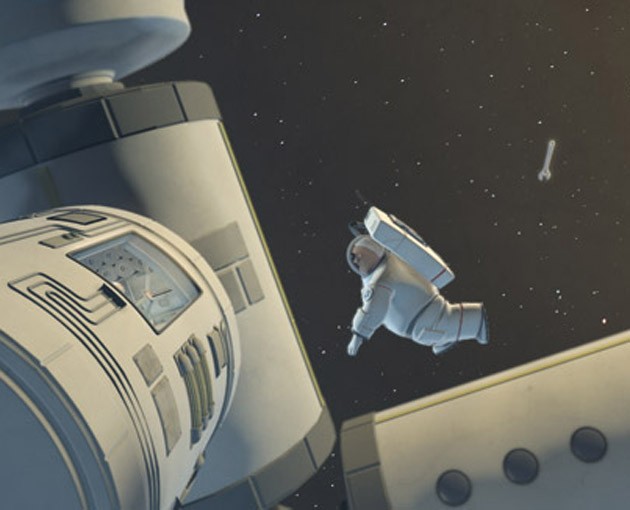 Last week NASA announced that two astronauts — one American, one Russian — will be spending a full year aboard the International Space Station (ISS), starting in 2015, much longer than the usual amount of time astronauts spend in space.
Scott Kelly and Mikhail Kornienko's stint will help advance our current knowledge of the effects of microgravity on muscle mass, vision, strength and bone density on astronauts on long-term missions.
Since Kelly and Kornienko will be up there so long, we hope they'll be able to benefit from the latest delicacies of orbital cooking, such as the dishes cooked up by NASA astronaut Sandra Magnus on her last four-month stint aboard the ISS. It's a challenge preparing tasty food in a microgravity environment, but it's also a topic ripe for humor.
That's what inspired French filmmaker Corentin Charron, a student at Supinfocom Arles, to create a charming animated short, "Un Petit Plat pour L'Homme" ("One Small Plate for Man").
"I wanted to play with weightlessness and I had some specific ideas for the lighting and atmosphere," Charron said in an interview with 3D World. "Then, with my teachers' help, the plot matured and the gags were refined to achieve this result."
The animated short was created over a period of six months, using 3ds Max, Aftereffects and Photoshop. It tells the tale of two astronauts, one quite portly, performing maintenance outside the craft, while the other prepares a delicious meal, complete with wine (although chances are the sediments in those wines would never fully re-settle in microgravity). The two men mime a dialogue through the spacecraft's window.
"I wanted a theme of frustration to run through the film," Charron told 3D World. "I wanted the fat astronaut, who makes a good living and is probably a lover of good food, to be locked outside and have no access to food — and, conversely, to have the young, thin astronaut, who has no idea about cooking, prepare the meal."
Check out Charron's completed film below.