Animal Farm Gone Wild: Owner Dead
Local police in Zanesville, Ohio, have orders are to shoot on sight any of the escaped animals that remain on the lam.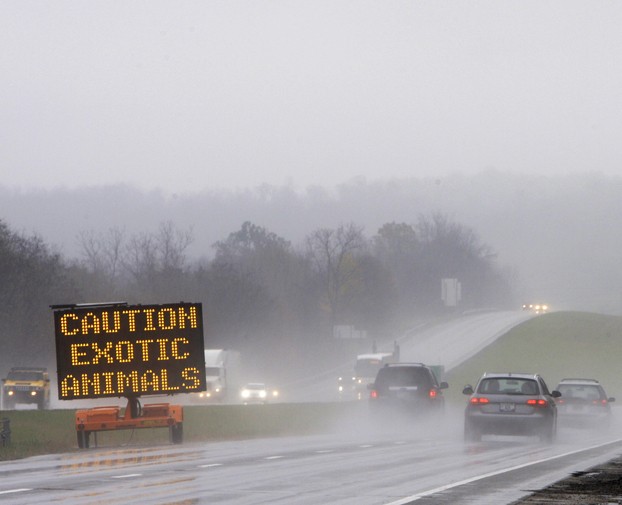 Lions and tigers and bears? Oh my, Ohio.
Grizzly bears, black bears, lions, tigers, wolves, baboons, mountain lions, and cougars were some of the 56 animals that escaped from a wild animal farm in rural Ohio on Tuesday.
Almost all of the animals have now been rounded up or killed. Only one animal, a herpes infected monkey, is still on the loose near Zanesville, Ohio, said local sheriff Matt Lutz in the Columbus Dispatch.
Lutz said 48 of the animals were killed, either shot by police or hit by cars, including 18 tigers, nine male lions, eight female lions, six black bears, three mountain lions, two grizzly bears, one baboon and two wolves. Six animals were captured alive, a grizzly bear, three leopards and two monkeys.
ANIMAL PLANET: Not the First Exotic Pet Emergency
It all started after police responded to reports of exotic animals running loose at about 5:30 p.m. Tuesday, reported a local CBS station. Four officers armed with assault rifles immediately went to the 73-acre exotic animal farm at 270 Kopchak Rd., abutting I-70.
The officers found most of the animals cages were open, and the outer fence unsecured. An indoor enclosure, which housed monkeys and apes, was still locked up.
The decision to shoot the animals was made after officers noted that the untamed predators were leaving the premises.
Lutz was concerned for the safety of local families on large rural lots where the animals might hide. No human injuries have been reported.
"Public safety was my No. 1 concern," Lutz said in the Columbus Dispatch. "I gave the order that if the animals looked like they were going to get out, they were going down."
BLOG: Atheists Offer Pet Rescue for Judgment Day
The farm's owner, Terry Thompson, was found dead on the premises from an apparently self-inflicted gunshot wound. Before killing himself, he had apparently opened all the cages.
He had recently separated from his wife.
Police have been to Thompson's property before.
"This is a bad situation," Lutz said. "It's been a situation for a long time."
BLOG: Sacred Sites Act as Wildlife Sanctuaries  
In 2006, a lion escaped. Neighbor Danielle White remembered she saw the lion back then, but hasn't spotted any animals this time.
"It's always been a fear of mine knowing [the farm's owner] had all those animals," she told CBS. "I have kids. I've heard a male lion roar all night."
White also said Thompson was in legal trouble and had recently been released from jail, reported the Associated Press.
The Bureau of Alcohol, Tobacco, Firearms and Explosives raided Thompson's Kopchak Road property in June 2008, reported the Columbus Dispatch. They seized more than 100 guns. Then in April 2010, Thompson pled guilty in U.S. District Court in Columbus to two federal charges: possession of a machine gun and possession of short firearms without serial numbers.
He had recently been released after serving a one-year sentence.
But keeping dozens of dangerous predators was not one of Thompson's criminal activities. Ohio has no laws prohibiting the sale or ownership of exotic animals.
"There really needs to be some legislation changed on how these things are going on in the state of Ohio," Lutz said in the Columbus Dispatch.
IMAGE: A sign warns passing motorists about exotic animals on the loose from a wildlife preserve October 19, 2011 in Zanesville, Ohio. Credit: Getty