Animal Clean-Up After Oil Spill: A Lengthy Process
Experts and volunteers are streaming to Louisiana, eager for direction to help wildlife that may be affected by the Gulf oil spill.
AP Photo/Rob Stapleton
An oil-covered bird on Knight Island, Alaska, in March, 1989, following the Exxon Valdez disaster. Wildlife experts explain cleaning animals after an oil spill is a lengthy process.
Jack Kurtz/Corbis
In this photo, a 'bucket brigade' of workers removes oil from Ao Prao beach on Koh Samet island.
Thai navy personnel battled on Monday to clean up a major oil slick which coated a beach on a popular tourist island in a national park after a pipeline leak.
Roughly 50,000 liters of crude oil gushed into the sea on Saturday about 20 kilometers (12 miles) off the coast of the eastern province of Rayong, operator PTT Global Chemical said.
The oil reached Ao Phrao beach on the island of Ko Samet where hundreds of navy personnel, national park officials, company workers and villagers raced to remove it.
Jack Kurtz/Corbis
"It covers about 300 meters (990 feet) of the beach. That's a lot," Soomet Saitong, chief of the Khao Laem Ya National Park which includes Samet island, told AFP.
Some visitors were cutting short their holidays on the island, which is a popular destination for weekend breaks for Bangkok residents.
"There are oil stains right in front of the beach. Customers are starting to check out," a worker at the Ao Phrao Resort told AFP.
In this photo, workers prepare to pump oil out of the surf on Ao Prao island on Koh Samet island.
Jack Kurtz/Corbis
"There's oil all over on the beach," said a member of the front desk staff at another nearby hotel.
"We just have to accept it. It's chaotic right now. Many people and officials are on the beach dealing with it."
The pipeline operator -- part of state-owned giant PTT -- had said in a statement Sunday that 10 ships were involved in an urgent clean-up and it was confident of containing the spill.
In this photo, a cleanup ship pulls a containment boom around part of an oil spill off of Koh Samet island.
Jack Kurtz/Corbis
PTT Global Chemical chief executive Anon Sirisaengtaksin apologized at a news conference Monday and said the company accepted responsibility for the leak.
The group said the spillage came as crude oil from an Omani tanker moored offshore was being transferred to the pipeline for delivery to a PTT refinery.
A local member of parliament suggested that the size of the leak might have been even worse than initially reported.
In this photo, workers walk out of the ocean after laying hoses to suck up the oil at Ao Prao beach on Koh Samet island.
Jack Kurtz/Corbis
"If that (50,000 liters) was the real amount, they should have already eliminated it -- they should have solved the problem fast enough before it reached Samet island," said Sathit Pitutacha, a lawmaker from Rayong with the opposition Democrat Party.
Greenpeace urged Thailand to end oil drilling and exploration in the Gulf of Thailand in light of what it described as a "massive leak."
In this photo, workers remove garbage bags full of oil soaked trash on Ao Prao beach on Koh Samet island.
Jack Kurtz/Corbis
"The Gulf of Thailand, the nation's food basket, has long been under threat from oil spills along oil transport routes, at points of discharge and loading of oil carriers or from the several hundred oil drilling operations across the Gulf," said Greenpeace activist Ply Pirom.
The environmental group said there had been more than 200 oil spills in Thai waters during the past three decades.
Jack Kurtz/Corbis
"This is the biggest oil spill in the province," said Puchong Saritdeechaikul, director of the government's Marine and Coastal Resource Conservation Center in Rayong. "It's the first time it happened on Samet island."
Conservationists have voiced concern about the impact of both the oil and the chemicals used to disperse the spill.
In this photo, tourists play in the surf at Ao Phia beach on Koh Samet island. This part of the island was not impacted by the oil spill that fouled the west side of the island.
Jack Kurtz/Corbis
"The main damage will be to corals and the fish food chain," said Srisuwan Janya, president of Thai environmental group The Stop Global Warming Association.
Another PTT subsidiary was involved in a huge oil spill off northwestern Australia in 2009 that was the country's worst ever offshore drilling accident.
In this photo, tourists walk along Ao Phia beach on Koh Samet island. This part of the island was not impacted by the oil spill that fouled the west side of the island.

THE GIST
- As Gulf oil spill wildlife cleanup efforts begin, experts are concerned over the projected scope of the damage.
- Volunteers must undergo hazardous waste operations training before they can work with oil-affected animals.
- The cleanup process requires at least seven steps before animals are released back into the wild.
When it comes to organizing efforts to rescue wildlife affected by oil spills like the one in the Gulf of Mexico that made landfall in Louisiana late Thursday, timing is everything. Training is essential for volunteers, who could themselves suffer health problems if they should come into contact with the oil.
"The public can't just go out and pick up oiled wildlife," Nils Warnock, field operations specialist at the California Oiled Wildlife Care Network, managed by the University of California at Davis, explained to Discovery News.
He added that an emergency phone number (866-557-1401) has been established where people can report animals affected by the oil spill. The public is encouraged to have ready the number and type of animals, the date and time they were seen, their location and any observations about the animals' behavior.
When trained professionals respond to such a report, they generally go through a seven-part rescue and treatment process.
The first step is to search for, and collect, both live and dead oiled wildlife in the area. Next, the animals are given a full physical examination. The animals are warmed, fed, hydrated and rested for a period of around 48 hours before they are washed in a series of tubs filled with a mixture of diluted cleaning agent and hot, softened water.
The cleaned animals are then placed in outdoor pools, or other appropriate housing. This "pre-release conditioning" can take anywhere from three days to several months, depending on the condition of the animal. The animals then receive another medical examination and are banded or tagged before released back into a clean habitat. The final step is a post-release assessment, which often entails tagging the animals with radio devices and monitoring them.
For smaller marine organisms, such as shellfish and fish, the rescue teams instead try to keep the oil away from them with booms that create a barrier between the slick and the animals.
Casi Callaway is executive director of Mobile Baykeeper, an Alabama-based organization recruiting volunteers now.
She told Discovery News that she's very worried about fish and turtles, since a chemical dispersant used by BP "has broken up the oil and caused it to break up and sink. Fish and other organisms then think it's food and eat it, leading to long-term problems in the ecosystem as the toxins move through the food chain."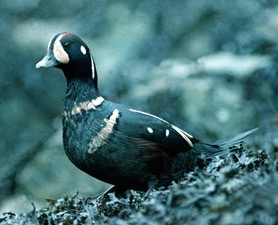 An oil-covered bird on Knight Island, Alaska, in March, 1989, following the Exxon Valdez disaster. Wildlife experts explain cleaning animals after an oil spill is a lengthy process. AP Photo/Rob StapletonAP Photo/Rob Stapleton
Warnock said the timing and size of the Gulf spill is "just about as bad as you can get for turtles and birds." He explained that many species are now migrating, breeding and nesting in the region.
Dee Boersma, an authority on seabirds and a professor of conservation science at the University of Washington, told Discovery News that wildlife rescue efforts after oil spills are "not cost effective and the animals usually die" shortly after release anyway, due to lasting damage caused by ingestion of oil and other problems.
Although wildlife experts from across the country are traveling to Louisiana and other states to handle cleanup of Gulf oil spill animal victims, frustration and fear remain over the organization and predicted cost of the rescue efforts, as well as the projected long-term scope of the damage.
While rescue costs vary widely, depending on the source of the information, David Jessup and Jonna Mazet of the Marine Wildlife Veterinary Care and Research Center have reported that "the actual cost of collecting and caring for oiled sea otters is about $4,000-$5,000 and marine birds $600-$750 each," which they believe is comparable to "replacement values" for similar animals.
Despite the costs and other problems, Jessup and Mazet conclude that oiled wildlife care and rehabilitation "may have some direct biological and conservation value, and may have considerable indirect conservation value. That is why it is done."
In Alabama, at least three organizations that include the Mobile Bay National Estuary Program, Mobile BayKeeper and the Alabama Coastal Foundation are recruiting volunteers. Virtually all of the volunteers are on hold, however, awaiting direction and resources from government authorities, according to Mobile Baykeeper's Callaway.
"Due to the lack of clear direction, we cannot provide jobs and training to the volunteers now," Callaway told Discovery News as she rushed from one emergency meeting to the next. "I hope we will soon have the resources and authority to move forward."