Amelia Earhart Search Ventures to Deep Sea
Submersibles will dive more than 3,000 feet down to look for pieces of Earhart's plane -- and investigate deep-sea corals while they're there.
TIGHAR
The manned submersible, Pieces IV, will take scientists to a depth of more than 3,000 feet.
TIGHAR
Is this Amelia Earhart's lost plane, the Electra?
A grainy sonar image captured off an uninhabited tropical island in the southwestern Pacific republic of Kiribati might represent the remains of the famous aviator's plane, according to The International Group for Historic Aircraft Recovery (TIGHAR), which has long been investigating Earhart's last, fateful flight.
TIGHAR
Earhart was piloting the Electra, a two-engine plane, in a record attempt to fly around the world at the equator, when she vanished on July 2, 1937.
TIGHAR
The researchers had already identified a small debris field of objects at a depth of 200 feet in the waters of Nikumaroro island, some 300 miles southeast of Earhart's target destination, Howland Island.
The site features objects that appear consistent with analysis made by TIGHAR forensic imaging specialist Jeff Glickman of a grainy 1937 photograph of Nikumaroro's western shoreline by British Colonial Service officer Eric R. Bevington.
TIGHAR
TIGHAR postulates that flood tides lifted the Electra and carried it over the reef edge, leaving behind the landing gear, which was inadvertently photographed by Officer Bevington three months later in October 1937.
TIGHAR
A new twist in the search occurred last March when Richard Conroy, a member of TIGHAR's online Amelia Earhart Search Forum, spotted an anomaly in a sonar map posted online.

A deep-sea investigation of corals will accompany an upcoming expedition to search for pieces of Amelia Earhart's plane, researchers who have long been investigating the last, fateful flight taken by the legendary pilot 77 years ago announced on Tuesday.
The expedition by The International Group for Historic Aircraft Recovery (TIGHAR) is scheduled to take place in mid-September to mid-October in the waters off Nikumaroro, an uninhabited island in the southwestern Pacific republic of Kiribati, where Earhart might have died as a castaway.
In 10 archaeological expeditions to Nikumaroro, TIGHAR has uncovered a number of artifacts which, combined with archival research, provide strong circumstantial evidence for a castaway presence.
The group is testing the hypothesis that Earhart and navigator Fred Noonan made an emergency landing on the flat coral reef at the western end of Nikumaroro, some 350 miles southeast of their target destination. There, they might have survived as castaways for weeks.
Called Niku VIII, the new expedition will rely on two Hawaii Undersea Research Laboratory (HURL) manned submersibles, Pisces IV and Pisces V, each carrying a pilot, a TIGHAR observer and an ocean scientist. The subs will search for pieces of Earhart's plane while gathering information crucial to understanding climate change.
"The scientists want to do exactly what we want to do -- see what's down there," Ric Gillespie, executive director of TIGHAR, told Discovery News.
"We're looking for airplane wreckage. They're looking to see what kinds of coral are there and what condition they're in. They also want to see what fish are living down there," he added.
According to Gillespie, the craggy underwater mountainside that may hold the wreckage of Earhart's twin-engined Lockheed Electra "also holds the answers to questions far more important than what happened to Amelia."
The atolls and waters around Nikumaroro are regarded by scientists as one of Earth's last intact oceanic coral archipelago ecosystems, with reefs representing what coral reefs might have looked like a thousand years ago.
The part of the Pacific where Earhart mysteriously vanished on July 2, 1937, during a record attempt to fly around the world at the equator, is also where El Niño events are born.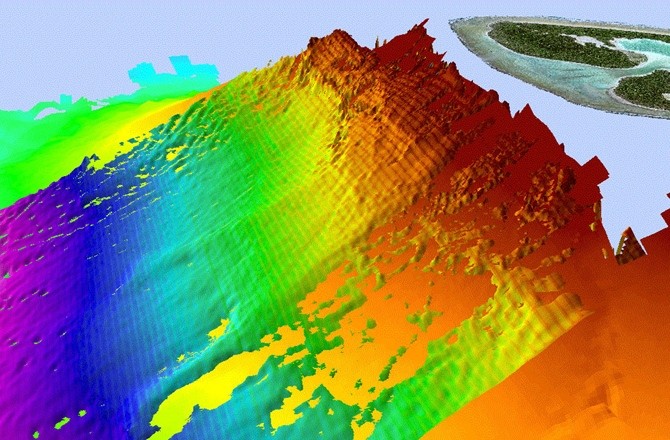 Multi-beam sonar data acquired during TIGHAR's 2012 expedition reveals the steep, rugged underwater terrain off the west end of Nikumaroro. Depths in the colored area range from 200 meters (656 feet) down to more than 3,100 meters (10,000 feet). TIGHAR
"These abnormally warm pools of Pacific Ocean water have a large but poorly understood impact on global weather. Their effect on coral reefs is a key indicator of how these events relate to climate change," Gillespie said.
However, it's often difficult to determine which changes to corals are attributable to abnormal warming or human activity.
The undisturbed Phoenix Islands, of which Nikumaroro is a part, could provide an ideal research field. The problem is that the corals are impossible to reach without expensive deep-diving technology.
"We need to know how resilient coral atolls like Nikumaroro are to El Niño. The underlying structure, created by coral growth and volcanism, goes down thousands of feet, yet we have never been able to get below two hundred feet," Gregory Stone, executive vice president at Conservation International's Betty and Gordon Moore Center for Science and Oceans, was quoted as saying in the TIGHAR announcement.
Equipped with high-definition video, still cameras, mechanical arms and recovery baskets, the subs will search a mile-long underwater area down to a depth of more than 3,000 feet.
On their way down, they will encounter unique species of coral, such as the Gold Coral, which live at a depth of 1,300-1,600 feet and are among the oldest living organisms on the planet, with colonies as old as 5,000 years.
"We will be going where no one has ever gone before. Researchers will not want to damage the ancient corals, but they often grow so big that pieces break off," Gillespie said.
"Examining these broken-off pieces is a bit like dendrochronology of trees -- a record of climatic changes going back thousands of years. How frequently do these climate changes happen? Is this one unusual?," he said.
The 30-day expedition is expected to cost as much as $2 million. TIGHAR must raise $1.2 million by June 30, 2014. The group is now collecting donations and sponsorships through its website.
"The timing is perfect. We have known targets to investigate what may well be aircraft wreckage. And a major El Niño event is reportedly now developing in the region," Gillespie said. "The opportunity is unprecedented and, sadly, not likely to be repeated."