Amazon to Launch 3-D Smartphone
The company has invited a small group of media to an event hosted by Amazon founder and chief executive Jeff Bezos.
Thinkstock
Several reports have said Amazon's new phone would have 3-D technology, making for a richer, multidimensional display that could differentiate it from rivals.
Fernando Barbella
The Tumblr blog
Signs From the Near Future
features just that, imaginary signs and warnings that we might come across eventually. The image blog is the brainchild of Fernando Barbella, an artist and creative director in Barcelona.
Fernando Barbella
Barbella creates the images by taking stock photos and manipulating the images in Photoshop. "I look for casual and amateur images on forums and online boards, then I work on putting together the whole thing, trying to integrate the signs in ordinary and very usual places where they would be relevant," Barbella says.
Fernando Barbella
How does Barbella come up with ideas? Any way he can: "Since I'm doing this during my free time, I usually came up with the idea in any give moment of the day, mostly while commuting by train, or taking my dogs for a walk at night."
Fernando Barbella
Barbella says the inspiration for the project came when he was trying to devise a graphical header for another project.
Fernando Barbella
"The idea came from trying to figure out how these upcoming technologies would interact with us," Barbella says. "But at the same time not showing these technologies at all, since we've already seen many pictures of those technologies."
Fernando Barbella
Once inspiration for a new image strikes, Barbella immediately starts picturing the context. "I write it down on my mobile or on paper and I try to figure out the best and more natural way to feature it."
Fernando Barbella
Subtlety is a key part of the design, Barbella says. The idea is not to trumpet the oddness of the signs, but rather to emphasize their "normalness" by placing them in very ordinary settings. "We're all very acquainted with signage," he says. "Of course there are some few touches of subtle humor, since I really enjoy irony and black humor a lot."
Fernando Barbella
Barbella says he hopes the project inspires people to think about their relationship to technology. "The goal of the project is to expose a point of view, and to make the visitors think about how far -- and how fast -- we want to go in this kind of technological race," Barbella says. "Although I'm an innovation fan, I'm not an expert or a man of science, and I think there are huge chances to make some mistakes in terms of the final result."
Fernando Barbella
Barbella says he plans to keep updating the image blog regularly, and perhaps take the project in new directions. "It would be nice to blur the line between the online and offline worlds, he says. "Perhaps a small book or a temporary expo in some physical space, or even producing those signs for real and start doing some urban interventions." Follow his
Tumblr here
.

Amazon's mystery unveiling on Wednesday is widely expected to be a smartphone, which if managed well could shake up the market and boost the US online giant as a device maker.
The company has given few hints, inviting a small group of media to the event to be hosted by Amazon founder and chief executive Jeff Bezos. The announcement contained an image of what appeared to be the edge of a smartphone -- a device long rumored to be in the works by the Seattle, Wash., firm, which is a retailer of a multitude of goods and digital content.
"If it is a smartphone, Amazon would automatically be considered one of the top players before it even ships its first phone," said Gerry Purdy, former chief mobile analyst for Compass Intelligence.
Purdy said Amazon's market clout, large customer base and willingness to sell devices at low profit margins gives the company an opportunity to get a foothold in this key segment. "They have a lot of tools," Purdy told AFP. "They can give free access to content, access to music, or they could credit your monthly phone bill if you spend enough with Amazon."
Amazon has worked to keep customers close with its Amazon Prime subscription service, for $99 a year. This gives consumers free delivery for goods, as well as access to Amazon's streaming video service. Last week, the company added streaming music for no additional charge.
But Amazon still needs to deliver a high-quality handset and offer enough apps to compete with the popular devices from Apple and makers such as Samsung which use the Google Android platform.
Several reports have said Amazon's new phone would have 3-D technology, making for a richer, multidimensional display that could differentiate it from rivals. In a cryptic message to journalists attending the event, Bezos sent copies of his favorite childhood book, "Mr. Pine's Purple House," which is about one house that stands out from the others.
Forrester Research analyst James McQuivey said Amazon is not interested in taking away a lot of Apple and Samsung market share, but in keeping its customers more engaged.
"Amazon wants to be in your pocket," he told AFP. "It wants to be with you in your hand's reach whenever you think about something you want to purchase."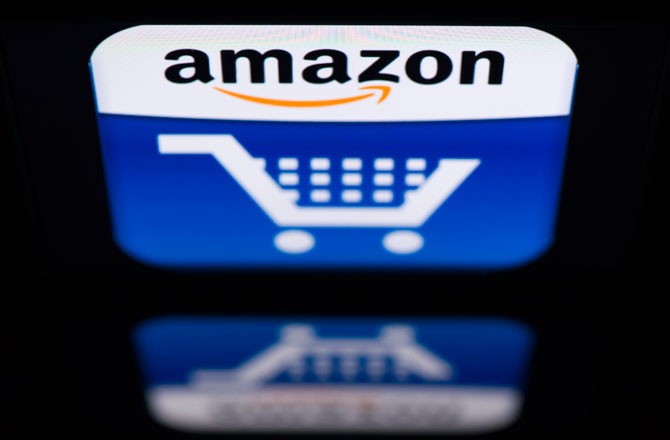 Amazon uses a modified version of Android, which keeps its system separate from the main marketplace offered by Google.AFP/Getty Images
McQuivey sees Amazon following a course similar to what it has done with the Kindle tablets -- selling at low prices to drive the purchase of more Amazon content, including books, electronics and streamed films or music. "The Kindle Fire tablet has never gotten significant market share, but for the people who own them, it made them more connected to Amazon," McQuivey said.
Mark Mahaney at RBC Capital Markets said Amazon's strategy for Kindle devices appears to be working. "Kindle device owners spend almost 30% more with Amazon than non-Kindle owners -- $457 per year vs. $361 per year -- (which provides) a bit of an explanation as to why Amazon may be shortly unveiling a smartphone," Mahaney said in a note to clients.
Still, some analysts say Amazon is taking a risk in a new, fiercely competitive, segment of the market. "It's going to be an uphill climb," said Ramon Llamas, a mobile analyst for IDC.
Llamas said a majority of US customers, and many in other parts of the world, already have a smartphone or have considered an iPhone or Android handset. "Consumers are going to want to know how many applications there are," he told AFP.
Amazon uses a modified version of Android, which keeps its system separate from the main marketplace offered by Google. It claims to have 240,000 apps, compared with over a million for iOS and Android, although some Android apps may work on Amazon devices.
Llamas said Amazon may have a hard time getting consumers to switch out of iOS or Android and could face similar troubles as Windows and BlackBerry, whose phones lack a broad ecosystem.
He added that some consumers might want to use an Amazon phone for shopping, but that consumers have a much deeper relationship with their phones.
"It's not shopping all the time," he said.