All the Advertising That's Fit To Shoot
The New York Times has an interactive article that lets you shoot ads on the page.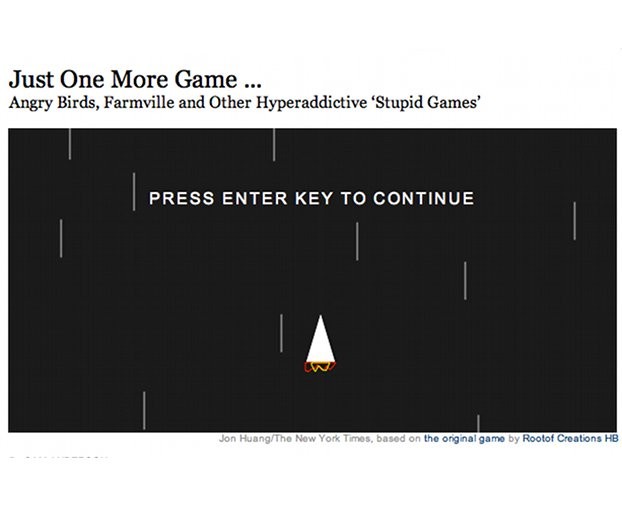 There's this ad on a site I visit daily that, no matter what I do or where I scroll, it pops up and takes over half my screen. All it takes is a little click on the "X" to get rid of it, but it still bugs the heck out of me. So I was intrigued over a New York Times article about highly addictive games that in and of itself is a game that allows the reader to shoot ads.
The seemingly normal article outlines the history of addictive games like Tetris all the way to Angry Birds. But the interactive game is really what's drawing readers to the story. The extremely addictive game lets you roam around the entire page and shoot out ads, even NYT-related ones like story recommendations or subscription offers, and displays points on the lower right-hand corner. Given that the article is seven pages long, chances are you can get a pretty high score while "reading" it. Kill some time (and a few ads) by checking out the story.
Credit: Jon Huang / The New York Times (Screen capture from article)