Alaska's Arctic Tundra Feeling the Heat
Even in the Arctic, warmer summers create conditions where fires are more likely to ignite.
The amount of baked Alaska is increasing, but not on the dessert cart.
In the Alaskan arctic, fires may become more severe and frequent as the climate warms. The Anaktuvuk River fire burned more than 621 square miles of tundra on Alaska's North Slope in 2007.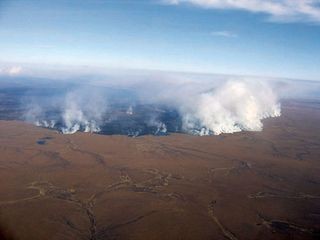 The area hadn't seen a fire of that scale in at least 5000 years, according to research led by Feng Sheng Hu of the University of Illinois. The Anaktuvuk fire made Hu wonder if massive burning was a regular occurrence in the arctic, or a new phenomenon, possibly caused by climate warming.
Hu and his team of scientists used sediment collected from two lakes affected by the fire to look for evidence of similar fires during the past five millennium. They also used 60 years of temperature, fire, and precipitation records to look for connections between climate conditions and fires. They published their findings in the Journal of Geophysical Research.
The scientists found a distinct correlation between higher temperatures and fire.
"There is a dramatic, nonlinear relationship between climate conditions and tundra fires, and what one may call a tipping point," Hu said in a University of Illinois press release.
"Once the temperature rises above a mean threshold of 10 degrees Celsius (50 degrees Fahrenheit) in the June-through-September time period, he said, "the tundra is just going to burn more frequently."
The arctic is warming more rapidly than the rest of the planet. The year of the Anaktuvuk fire had the lowest precipitation and highest temperatures recorded, about 52 degrees Fahrenheit.
One possible reason for the increased intensity and frequency of the fires is that warmer temperatures increase the growth of shrubby plants, which then provide fuel for fires. When the weather is dry as well as warm, the tundra burns.
PHOTO: The 2007 Anaktuvuk River fire on Alaska's North Slope; CREDIT: U.S. Bureau of Land Management
VIDEO: Alaskans work to prevent fires; CREDIT: YouTube