Alan Shepard: Forever an Icon, Says NASA
Fifty years ago when Alan Shepard climbed inside his Mercury capsule to blast off into space, things were looking pretty grim for the fledgling U.S. space program.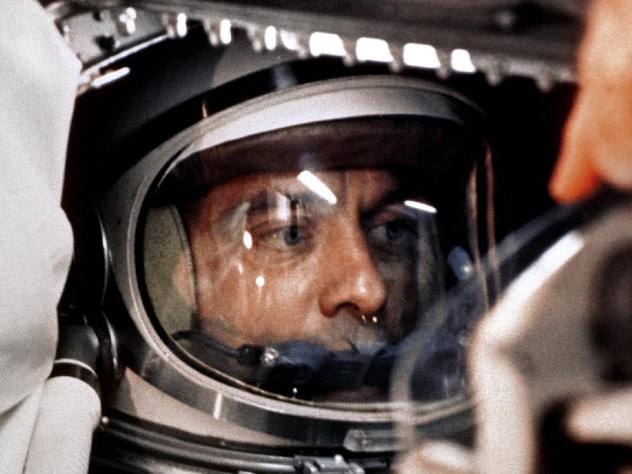 Fifty years ago when Alan Shepard climbed inside his Mercury capsule to blast off into space, things were looking pretty grim for the fledgling U.S. space program.
America's arch rival, the Soviet Union, had launched not only the first satellite into orbit, but the first person as well. To make matters worse, even if Shepard's flight was totally successful, it wouldn't even match what the Soviets accomplished during Yuri Gagarin's space debut three weeks earlier.
Shepard's flight would last just 15 minutes and max out at an altitude of 116 miles — far short of Gagarin's 203-mile orbital altitude.
"If (Shepard) failed, he knew it would be the failure of the space program," recalled Jay Barbree, a long-time space journalist who covered Shepard's launch.
NASA and invited guests marked the 50th anniversary of Shepard's flight on Thursday with a re-broadcast of the countdown, launch and mission at his Cape Canaveral, Fla., launch pad.
The event drew prominent former astronauts, including Scott Carpenter, who, along with John Glenn, are the last of the original Mercury Seven astronauts still living. Shepard died of leukemia in 1998 at the age of 74.
Guests also included Shepard's three daughters, who shared memories of their famous father during two commemorative celebrations. My favorite, from Shepard's daughter Julie Jenkins, is this story of Shepard's first meeting with then-President John F. Kennedy a few days after his flight.
"He and John F. Kennedy were sitting and talking about the future of space and space exploration and in skipped Caroline Kennedy," says Jenkins. "So, John F. Kennedy introduced Caroline to the first American into space. She looked at daddy, and then she looked at her father with a very quizzical look, and she says, 'Where's the chimpanzee?' "
In addition to Gagarin beating American astronauts into space, NASA launched chimps as test subjects before allowing Shepard and the other Mercury Seven astronauts to fly. That apparently made quite an impression on the president's young daughter.
From those early steps, the United States went on to land six crews on the moon. Shepard, the commander of Apollo 14, ended up becoming the only Mercury astronaut to make it to the lunar surface.
The space shuttles came next, enabling hundreds of people to fly into orbit, including men and women without military backgrounds.
"I was a teenager at the time (of Shepard's launch) and just sorting out the field of study I wanted to pursue, though I never imagined becoming an astronaut growing up in the segregated South Carolina," said NASA administrator Charlie Bolden, an African-American who flew four times on the shuttle.
"I was proud to follow in Alan's footsteps several years later and become a test pilot," added Bolden. "But he was our first in space and will forever be an icon."

The U.S. Postal Service is honoring the 50th anniversary of the first American in space with two new commemorative stamps. One depicts a space-suited Shepard, with his Freedom Seven capsule and Redstone rocket in the background. The second is a picture of NASA's Mercury-orbiting MESSENGER spacecraft.  Both are "forever" stamps, which can be used at any time in the future for first-class letter postage.
(Alan Shepard, a 37-year-old Navy test pilot and one of America's original Mercury Seven astronauts, prepares for the first U.S. human spaceflight on May 5, 1961. Credit: NASA)