Airplane Seat-Back Pockets Germier Than Toilet Handles
Germs may linger for days on the surfaces found within airplanes, such as the armrest, seat-back pocket and toilet handle.
Warren Chan
This week everything sparkles. From glowing mice to invisible, wireless networks to holographic chocolates, scientists and artists alike are using technology to reveal unseen mysteries. In this photo, mice glow under ultraviolet light. University of Toronto Warren Chan injected them with nanoparticles called quantum dots to show how theses minute particles, which already exist in myriad commercial products, including food packaging, water treatment chemicals, pesticides and cosmetics, can build up in organs and skin. KInd of icky.
Airbus Group
The Airbus Group has been running tests on its electric E-Fan plane. The company wants to develop a hybrid-electric version that could accommodate 70 to 90 people and serve as a regional aircraft.
Kyle Kuykendall
As the world heats up and deserts expand, water is becoming more scarce. An important study conducted by scientists at Oak Ridge National Laboratory discovered a way to form a network of water droplets that did not merge with one another. The technique could lead to equipment that efficiently harvests fog from the air that could be used as drinking water.
Little Sun
In sub-Saharan Africa, families lack the basic infrastructure for electricity. Most people use kerosene-powered generators that emit lots of pollution. Bloomberg Philanthropies wants to change that and has invested $5 million to bring solar-powered lamps from Little Sun to these communities. The lamps are already popular in some areas, but the investment will lower the cost to a price below kerosene, making the lamps more affordable and practical.
Keio University
Humans have made it to the Moon and to Mars. What's next? In order to explore the further reaches of the solar system, scientists must build robots that can withstand extreme environments. At Keio University in Japan, researchers are doing just that by focusing their efforts in three key areas: vehicle-terrain interaction mechanics, autonomous mobility systems and robotic devices. The goal is to make robots that can autonomously explore unknown worlds and unpredictable environments.
Researcher and artist Luis Hernan has found a way to illuminate the invisible infrastructure of wireless networks. His project called Digital Ethereal relies on a Kirlian Device, an instrument that scans for wireless networks and then translates the signal strength into color LEDs. As a person moves through the environment, the signal strength fluctuates and so do the colors. The results are eerily beautiful. See more by visiting his
website
.
L. Wen, J. Weaver, G. Lauder, J Oeffner
For the first time, scientists have found a way to print the microscopic texture of shark skin. George Lauder and his colleagues from Harvard used 3-D printing techniques to replicate tiny structures called "denticles" that comprise shark skin. Because printers cannot output the structures in the same small size that they occur in nature, the resulting artificial skin is much larger. However, when tested in water, the 3D-printed denticles, which were embedded in a flexible membrane, closely mimic the fluid dynamics of shark skin. The material could lead to a better understanding of sharks and even surfaces that move through water with less friction.
Aerofex
Aerofex has been testing its hover vehicle since 2012. Now, the company is ready to bring this vehicle market. They announced that they'll begin selling the commercial Aero-X for $85,000 starting in 2017. Start saving your pennies.
The Swiss really know their chocolate. Chocolatier Morphotonix, based in Lausanne, has found a way to etch microstructures into chocolate that refract light and produce holographic images. The technique is similar to the way holograms are etched into plastic credit cards, only these are edible.
Tesla Motors
One of the most alluring features of Tesla's new all-electric Model X is its rear "falcon-wing" doors. The car is not yet ready for market, but everyone loves the way these doors open upwards. The problem is that they're proving difficult to seal against wind and rain. The company is dumping tons of money into research and development and car enthusiasts are crossing their fingers that the Model X will fly.

Concerned about germs while traveling by plane? It turns out that your seat-back pocket might actually be germier than the toilet handle, according to a new study, which also suggests that certain bacteria can linger on surfaces within airplanes for longer than a week.
In the study, researchers found that the antibiotic-resistant bacterium known as MRSA (Methicillin-resistant Staphylococcus aureus) lived on material from a seat-back pocket for a week, which is longer than it lived on any other surface found in airplanes. It actually lasted for the shortest amount of time on the toilet handle.
The bacterium E. coli O157:H7, a common culprit in outbreaks of foodborne illness, survived longest on the material from the armrest, living there for four days.
"We do not know how likely it is for a passenger to get infected, but the odds are higher when groups of people are put into a crowded room or cabin," said James M. Barbaree, an associate director for research at Auburn University in Alabama. [6 Superbugs to Watch Out For]
"Good hygiene practices lower the risk" of getting sick, Barbaree told Live Science.
The bacteria the researchers looked at are common in the environment, and people may be exposed to them and not even get sick. However, E. coli O157:H7 may cause severe diarrhea, and can even lead to hemolytic-uremic syndrome, a disorder that destroys blood cells and can be fatal, especially in children younger than age 5 and older adults. Infection with MRSA can cause skin diseases and pneumonia.
In the study, the researchers tested how long MRSA and E. coli bacteria could survive in an aircraft cabin while exposed to typical airplane conditions that included human sweat and saliva. The researchers tested the bacteria's "survival skills" on six surfaces they obtained from a major airline carrier: an armrest, a plastic tray table, a metal toilet handle, a window shade, a seat pocket cloth and seat leather.
The reason certain types of bacteria survived longer on plane surfaces may be related to their differing structures, the researchers said.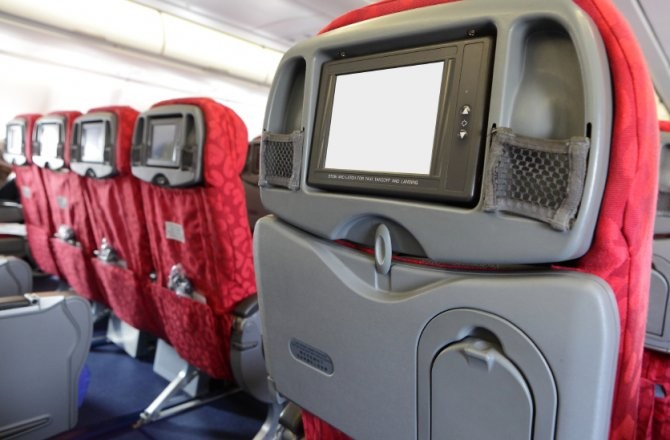 iStock
"Bacteria vary in their outer membrane components," which can make them more or less susceptible to adverse environmental conditions, Barbaree said. "The species also vary in their tolerance of certain environmental conditions, such as temperature and humidity."
The researchers said their next step will be to test the survival and transmission of other potentially dangerous bacteria, such as Mycobacterium tuberculosis — which causes tuberculosis — on airplanes.
Even though the new study suggested that harmful bacteria survived longer on other surfaces than they did on toilet handles, previous research has shown that airplane bathrooms are teeming with pathogens.
"It's probably the germiest toilet you'll come across," Charles Gerba, a microbiology professor at the University of Arizona, told Live Science in a 2011 interview.
In one of his studies, Gerba collected bacteria from 20 planes. Airplane bathrooms turned out to be the most bacteria-infected spots on planes. As many as 75 people use the bathrooms between cleanings, he said.
Gerba also found E. coli bacteria in the bathrooms.
The new study by the Auburn University researchers was presented today (May 20) at the 2014 general meeting of the American Society for Microbiology in Boston, and has not been published in a peer-reviewed journal. The research was funded by the U.S. Federal Aviation Administration's (FAA) Office of Aerospace Medicine.
More From LiveScience:
Top 7 Germs in Food that Make You Sick

Tiny & Nasty: Images of Things That Make Us Sick

7 Devastating Infectious Diseases
This story originally appeared on LiveScience.com.
Copyright 2014 LiveScience, a TechMediaNetwork company. All rights reserved. This material may not be published, broadcast, rewritten or redistributed.