Air Conditioning Actually Makes Phoenix Hotter
So much heat is emitted by air conditioning units in Phoenix it actually raises the city's outdoor temperature at night. Continue reading →
John Hyde/Design Pics/Corbis
Nick Garbutt
Only a few extinctions are attributed to climate change, reports the IPCC, but climate change that occurred much more slowly, over millions of years, caused major ecosystem shifts and species extinctions. Land and sea animals are changing their geographic ranges and migratory patterns due to climate change.
NEWS: Climate Change: Why Haven't We Done More?
Jagdish Agarwal/Dinodia/Corbis
Massimo Brega/The Lighthouse//Vi/Visuals Unlimited/Corbis
Excess CO2 is dissolving in the ocean and decreasing the pH of seawater. The ocean is about 30 percent more acidic than it was in pre-industrial times. More acidity in the oceans makes it harder for animals to form calcium carbonate shells and skeletons and erodes coral reefs.
11 Health Threats from Climate Change
Andrew Lichtenstein/Corbis
The probability of a Sandy-like storm deluging New York, New Jersey and other parts of the East Coast has nearly doubled compared to 1950, according to the American Meteorological Society. Even weaker storms will be more damaging now than they were 10 years ago because of rising sea levels. Superstorm Sandy cost the nation $65 billion, according to the 2014 National Climate Assessment, and 2012's Hurricane Isaac cost $2.3 billion.
Paul Souders/Corbis
The global sea level rises along with the temperature for two major reasons. For one, heat causes water to expand, which causes the existing water to take up more space and encroach on the coast. At the same time, ice at the poles and in glaciers melts and increases the amount of water in the oceans.
PHOTOS: Melting Glaciers
MICHAEL SPOONEYBARGER/Reuters/Corbis
Across the United States, heavy downpours are on the rise, especially in the Northeast and Midwest. Increases in extreme precipitation are expected for all U.S. regions, reports the 2014 National Climate Assessment.
NEWS: Shrinking Greenland Glacier Smashes Speed Record
Ted Soqui/Ted Soqui Photography/Corbis
The most recent IPCC report states with "very high confidence" that current climate-related extremes like heat waves, droughts, floods, cyclones and wildfires are showing that countries around the world, at all development levels, are significantly unprepared. The American Meteorological Society estimates that approximately 35 percent of the extreme heat in the eastern United States between March and May 2012 resulted from human activities' effects on climate. The AMS warned that deadly heat waves will become four times more likely in the north-central and northeastern United States as the planet continues to warm.
NASA: Global Warming Goes On

A new study by Arizona State researchers, published on May 28 in the Journal of Geophysical Research, concluded that that so much wasted heat is emitted by air conditioning units in Phoenix that it actually raises the city's outdoor temperature at night by between 1 and 2.7 degrees.
Like many cities, Phoenix is an urban heat island, which experiences significantly higher temperatures than its less-developed surroundings. One of the prime causes is the replacement of trees and grass with rooftops and pavement, which make up 60 percent of the surface area of a typical city. Those usually dark surfaces absorb about 80 percent of sunlight, causing them to heat up.
In addition, human activities that generate heat, such as industrial plants and vehicles, also contribute to the effect.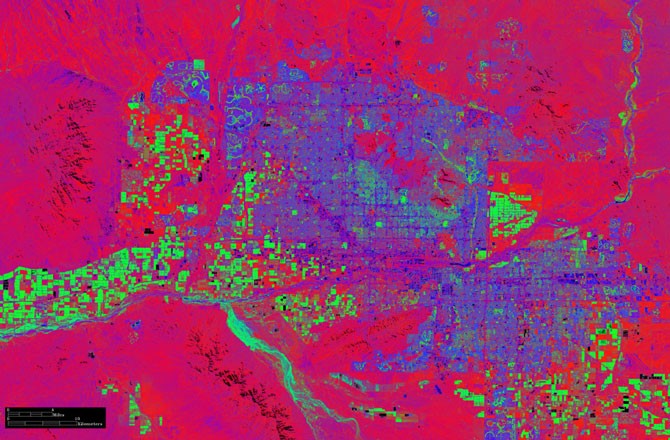 This image, created by data from a NASA satellite in 2000, shows the concentration of rooftops and paved surfaces (in blue) in the Phoenix urban area. Vegetation is green and soil is red.NASA
But Phoenix is an example of a paradoxical aspect of the urban heat island, in which urban dwellers actually heat up the outside environment as a result of our efforts to stay cool indoors, and expend enormous amounts of energy in the process. That effect is particularly noticeable at night.
According to this analysis by Arizona State's Global Institute of Sustainability, nighttime temperatures in Phoenix have risen significantly over the past 40 years. Prior to 1970, there were no recorded instances of nighttime low temperatures exceeding 90 degrees Fahrenheit or higher after dusk in Phoenix. Between 2000 and 2009, there were 50 such hot nights.
The authors of the new Journal of Geophysical Research article write that Phoenix could save as much as 1,300 megawatt-hours per day by reducing the heat island effect.