A.I.-Based Service Nixes Gadget Buyers' Remorse
Helpful site finds the best time to buy devices based on their life cycles.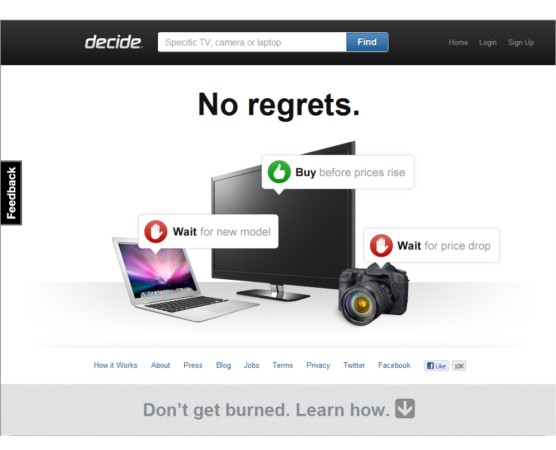 Decide.com
Caveat Transistor. Translation: Let the technology buyer be wary. After all, nothing's worse than feeling like you're getting current technology at a good value…only to realize you didn't. Decide.com is a new service that aims to eliminate the torture and regret of not buying at the right price or time. They apply fancy machine learning and text mining algorithms to hundreds of thousands of devices.
The first result is a green symbol telling you to buy (because the product was just released and/or prices are expected to rise) or a red symbol indicating you shouldn't buy (because a new model's coming out soon or the price is expected to drop). But it also gives more specific info. For instance, should you buy the Canon PowerShot S95? This very moment, they're 76 percent confident that for the next two weeks the price will hold steady or drop an average of $23. Set an alert and you can find out exactly when the price rises or falls. At launch, they're focused on three major device categories: Cameras, laptops and televisions. But they're totally open to your suggestions for the next categories they should cover. And if you're a true gadget geek, Decide encourages you to get more involved in Beta testing, further site feedback and meeting up with fellow tech enthusiasts at industry events.