After Haiti: Three Rules To Make Donations Matter
Two years ago today, a magnitude 7.0 earthquake shredded Port-au-Prince, Haiti's capital. Some aid donations went straight to landfills.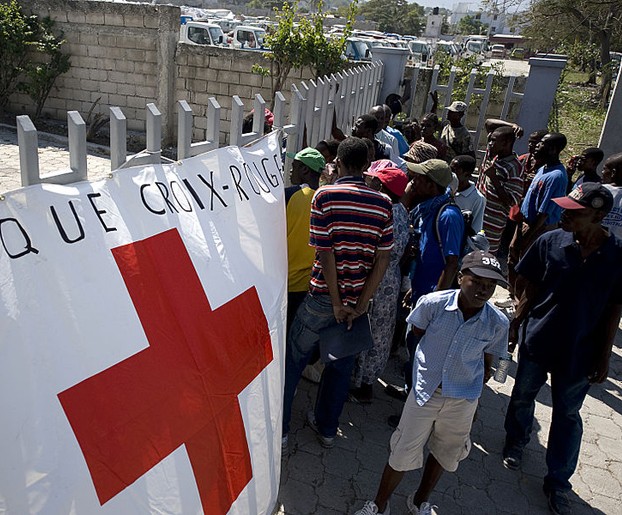 At 4:53 p.m. local time on Tues, Jan. 12, 2010, a magnitude-7.0 earthquake shredded Port-au-Prince, Haiti's capital, and nearby cities. Within 15 seconds, hundreds of thousands of people were dead.
Two years out, Haiti is still recovering, and aid experts are still planning for how to handle the world's next great disaster.
An estimated 634,000 people in Haiti continue to live in displacement camps, despite the enormous reconstruction and resettlement efforts still under way. Some Haitians are taking it upon themselves to build their own settlements, at times even staking out territory on mass graves. (Correspondent Susana Ferreira tells a morbidly intriguing story of the living mingling with the dead in this week's issue of Time magazine.)
In the days and weeks immediately following the disaster, donations poured in from around the world. Sadly, many of the items ended up abandoned or in landfills. Some of them were truly bewildering: Imagine 10 freight containers sent to Port-au-Prince filled with donated refrigerators that required a voltage different from what is used in Haiti.
Even for usable items, the country lacked adequate means for getting them from airports and shipyards to the people who needed them. Similar stories have unfolded in wealthier nations facing catastrophe, as happened in Japan last year.
So, how can we do better next time? Humanitarian logistics expert Jose Holguin-Veras of Rensselaer Polytechnic Institute has the answer, but you many not want to hear it.
Holguin-Veras is a professor of civil and environmental engineering. He has the practical perspective of a transportation engineering expert. He also has extensive field experience on the ground in disaster sites around the world, including New Orleans post-Katrina and Japan post-Fukushima. A key facet of his research analyzes types of donations, donation patterns and how donated money is used.
From that perspective, here is his bottom line: Send money, not stuff. The details can be found in this press briefing and presentation, which Holguin-Veras gave earlier this week:
Three Rules for Making Your Donations Matter
Rule No. 1: Do not send physical donations.
In most cases, physical donations produce more harm than good because they …
generally clog up the limited supply chains into disaster areas;

occupy the time of volunteers, who could be contributing in other ways;

depress local markets, negatively impacting local producers;

waste money — given the considerable expense of distributing such items in a disaster zone, relief agencies could more effectively help victims by using the funds to purchase goods locally.
Rule No. 2: Donate money to reputable relief organizations with a local presence.
Local relief organizations have the most success because they …
know what is needed;

can purchase locally, providing a boost to local economies;

have more success navigating local social systems, as compared with their global counterparts.
Rule No. 3: If you wish to volunteer in a disaster zone, plan your actions thoughtfully.
Do not make things worse by becoming a volunteer victim.

Join reputable relief groups; they know how to best use your help.

Make sure you can support yourself once in country (bring at least a week of supplies, water, medicine).

Arrange local support before going to the disaster site.

Do not be a disaster tourist.

If you are unwilling to commit to at least a month of work, do not go.
Despite the sensible, aforementioned advice against donating physical items to disaster sites, it is worth noting that some seemingly misguided donations can provide unexpected value.
Intrepid photographer Todd Huffman captured the tale of a donated calculus textbook that made its way into the hands of some teens in Cité Soleil (see photograph below), a severely impoverished commune on the outskirts of Port-au-Prince that is often cited as one of the most dangerous places in the world:
"Trevor and I were on a walk through Cité Soleil, and we went into a church made of tin roofing material. There, on desks made from scrap lumber, were several teens working on vector calculus problems (that's Calc III). They have no calculus teacher and are able to do this because they found a textbook in a donation pile and have been teaching themselves. This picture was not posed, and they didn't know we were coming; this was a totally random interaction."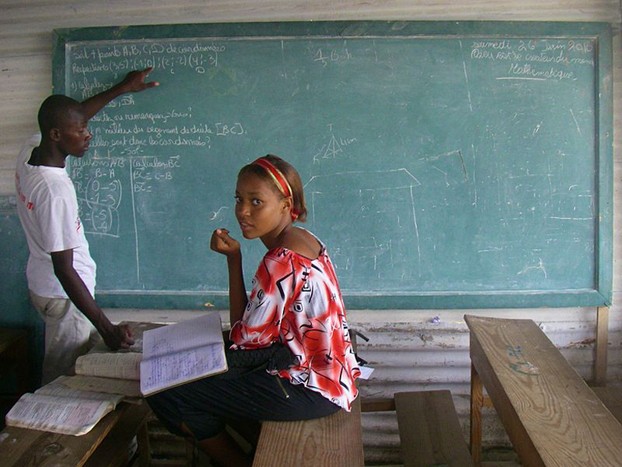 IMAGES:
Haitian earthquake survivors wait to receive nonperishable goods from a local Red Cross distribution site in Port-au-Prince, Jan. 25, 2010. (Credit: Joshua Lee Kelsey and the U.S. Navy via Wikimedia Commons).
Haitian teens in Cité Soleil, an impoverished, densely populated commune in the metropolitan region of Port-au-Prince, teach themselves vector calculus from a donated textbook, June 27, 2010. (Credit: Todd Huffman via Wikimedia Commons).