Adventurer Begins 1,000-mile Swim Down Missouri River, as Part of 25,000-mile Trip
Planning, preparing, and going on a single thousand-mile non-motorized journey would be a huge undertaking for most of us, and one that might belong in many an adventurer's bucketlist. But if you happen to be British adventurer Dave Cornthwaite, then you don't stop at just one long journey - you plan for 24 more. Cornthwaite's [...]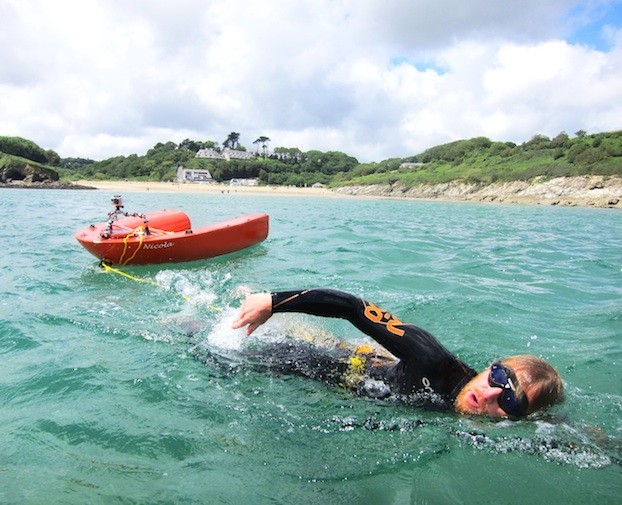 Image ©2012 DaveCornthwaite
Planning, preparing, and going on a single thousand-mile non-motorized journey would be a huge undertaking for most of us, and one that might belong in many an adventurer's bucketlist. But if you happen to be British adventurer Dave Cornthwaite, then you don't stop at just one long journey – you plan for 24 more.
Cornthwaite's Expedition 1000 is a series of 25 journeys consisting of 1000 miles or more, with a different form of non-motorized transportation used in each one. According to his website, the aim of the project, which would equal the same distance as the circumference of the Earth, is to raise £1,000,000 for charity, while inspiring people to "think big, stay healthy and care for our planet."
Here's his introduction to the whole project:
And right now, he's on the Swim 1000:
"Between 10th August and early October 2012 Dave will be swimming 1000 miles between Chamberlain, South Dakota and St Louis, Missouri, towing his gear with him on a carbon fibre raft. Expected to be one of the hardest expeditions he'll ever undertake, Dave will be joined by a non-motorised support team throughout his journey, each member of his team paddling the full 1000 miles either by canoe or Stand Up Paddleboard."
Cornthwaite and crew, who took off on Swim 1000 on Friday, are planning to cover the distance in 50 days, with him swimming the entire 1000 miles, and the other 6 support people paddling the distance.
Having an adventure while raising money for a good cause – looks like a pretty sweet way to spend a summer, eh?