The first large, population-based study to follow kids through to adulthood shows that attention deficit hyperactivity disorder (ADHD) rarely goes away with age.
Robin Nelson/ZUMA Press/Corbis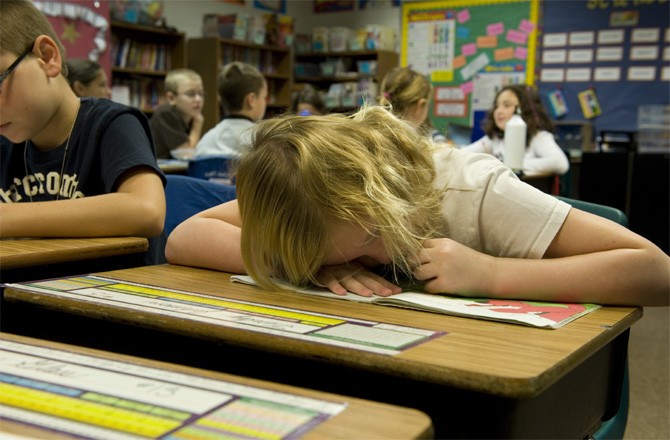 The common view of ADHD is a young student having a 'meltdown' in class, but new research suggests the symptoms of the neurobehavioral disorder persist with age.Robin Nelson/ZUMA Press/Corbis
Picture someone with attention deficit hyperactivity disorder, or ADHD, and you probably conjure up an image of an elementary school-age boy. But an analysis of data from the first large, population-based study to follow kids through to adulthood shows that the neurobehavioral disorder rarely goes away with age.
Indeed, as ADHD patients make the transition to adulthood, the issues they face often multiply: they are more likely to have other psychiatric disorders and even commit suicide, reports a new study published online today in Pediatrics.
In fact, researchers found that only 37.5 percent of the adults who had been diagnosed with the disorder as a child were free of other psychiatric disorders, including alcohol and drug dependence, in their late 20s.
Very few of the children with ADHD were still being treated as adults -- although neuropsychiatric interviews confirmed that 29 percent still had it.
"I think there has been a view that ADHD is a childhood disorder, and it's only relatively recently that people have been trained to detect it in adults," said Nathan Blum, a developmental-behavioral pediatrician at Children's Hospital in Philadelphia, who was not involved in the study.
Among the adults who'd had ADHD as a child, 57 percent had at least one other psychiatric disorder, compared with 35 percent of the controls. Just under 2 percent percent had died; of the seven deaths, three were suicides. Of the controls, less than 1 percent had died. Of those 37 deaths, five were from suicide. And 2.7 percent were incarcerated at the time of recruitment for the study.
"It's deeply concerning and indicative of the nature and severity of the condition," said study author Dr. William Barbaresi of Boston Children's Hospital. "ADHD tends to be trivialized still. (These statistics) are a direct indicator of why we have to pay attention to it and its associated conditions."
ADHD affects about 7 percent of all children. This study followed all children in Rochester, Minn., born between 1976 and 1982, and whose families allowed access to medical records. Of those 5,718 kids, 367 were diagnosed with ADHD.
The analysis of the data is ongoing; the authors have published previous reports on long-term school outcomes and health care costs of childhood cases of ADHD, among many others. And because the population of Rochester, home to the Mayo Clinic, is largely white and middle-class, researchers believe the outcomes may be more troubling if a more diverse group were studied.
Plus, the 37.5 percent who were still alive, not in jail, and free of other psychiatric disorders weren't necessarily leading blissful lives.
The analysis published today did not look for a host of other issues associated with adult ADHD, such as job retention, performance, and long-term relationship status, Barbaresi said. That's still to be analyzed. Other forthcoming studies might parse out the difference in adult outcomes in kids who had been treated for ADHD, vs. those who hadn't.
Adult treatment of ADHD can be effective, Barbaresi said, but it's more complicated than treating a child. Most children, he said, gradually stop taking stimulant medication.
"If an adult comes to a physician at age 30 having had childhood ADHD, wondering whether or not it's still an issue because they're facing, it's much more challenging because they likely have other issues by then as well, other mental health problems or substance abuse issues," Barbaresi said. "A doctor would be reluctant to prescribe stimulant medication to someone who has another mental health problem."
And while stimulant medications can be timed so that a child can function during a school day, there are limitations for adults, Blum said. The medication starts working shortly after taking it, and then wears off. 24-hour meds are less effective.
"We need to start building a treatment model that treats it as a chronic illness like diabetes, and work from the beginning to keep kids in treatment," Barbaresi said. "I hope this will be a wake-up call about the need to rethink this condition and to stop the sensationalist perspectives of focusing on the evils of stimulant medications."
Although other studies have shown that the job performance and relationships of adults can be affected by ADHD, this is the first study that has drawn from a large base of children, representing the entire range of severity of the disorder -- not just those referred to psychiatric centers by the severity of their condition.
"This study shows that previous studies weren't that biased by the fact that the the subjects came from these other settings, and that (any degree of) ADHD is a risk for significant negative health outcomes," Blum said. "It affects employment outcomes, relationships...It affects every aspect of an individual's life."