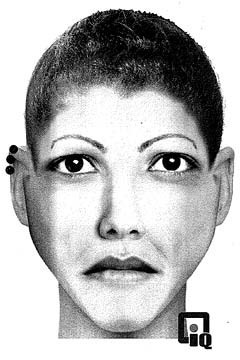 Bethany Storro, a Vancouver, Washington, woman made international news several weeks ago when she described a horrific attack: An African-American woman (pictured above) approached her in a park near a Starbucks coffee outlet and said, "Hey pretty girl, do you want to drink this?" Before Storro could respond, her attacker threw a cup of acid on her face, leaving her badly scarred.
Storro was rushed to the hospital with second-degree burns. The community rallied around her, raising thousands of dollars in donations and demanding that police find the assailant in this bizarre case. Yet police had no leads, and could find no evidence of Storro's attacker. After several weeks of fruitless investigation Storro admitted that it was all a hoax; she had thrown acid on herself.
By then the damage has been done—not only to Storro's credibility, and to the trust of her friends, family and supporters—but also to race relations. Commenters on white power Web sites jumped onto Storro's tragic story, viewing it through a racist prism: "This is a hate crime. Hang the baboon from a tree," one poster demanded. Another replied, "An eye for an eye I say. It is clear that this was done out of jealousy (most of these black on white crimes are about jealousy) because this lovely white girl was better looking and more intelligent than this inferior and worthless female afro-bozo.
This is a lesson to white women everywhere. If you think black girls like you because you are a female and you have some sort of 'sisterhood(?)' with them, think again." One Vancouver woman who resembles the widely-circulated police sketch of Storro's attacker had to go into hiding after getting suspicious looks from neighbors and strangers.'
Ironically, Storro had been slated to appear on Oprah to discuss her attack ("to inspire people and tell them about Jesus" she said), but cancelled abruptly once questions were raised about her story.
This is of course not the first time that race has played a factor in hoaxes, and false accusations have been leveled at all races (though minorities are more often falsely accused). In 1987 a young black girl named Tawana Brawley claimed she had been gang-raped by six white men, including several police officers.
Following an extensive investigation (and revelations about contradictions in Brawley's story), a grand jury concluded that Brawley hoaxed the incident. Susan Smith, a North Carolina mother, in 1994 blamed a black man for abducting her two young sons; she had in fact drowned her children in a nearby lake. And just a few years ago, a black student at North Carolina Central University falsely accused three white Duke university lacrosse players of rape.
When looking for someone to accuse of crimes, hoaxers often exploit society's racist notions of who would be likely to commit the crime against the "victim." The news regularly reports on people who fake diseases, rapes, robberies, abductions, suicides, and crimes of all variety. When the hoax fans the flames of hatred, it is all the more reprehensible.
Perhaps the racist poster on the white power web site was right: Maybe it is a hate crime—and Storro should be charged.