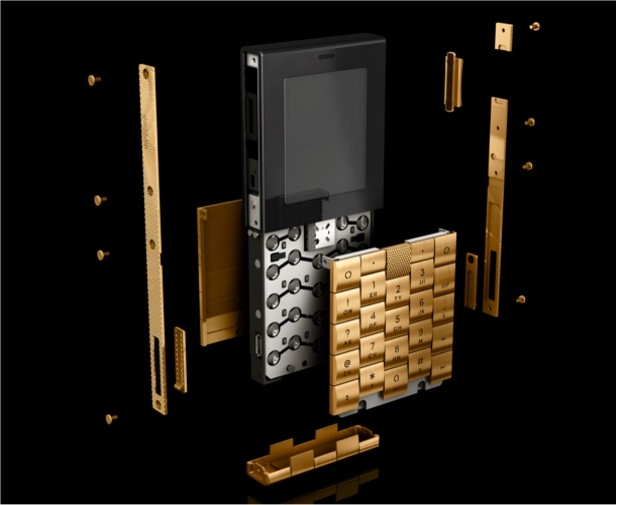 AEsir AE+Y: Euro 42,000 / US$60,700 / HK$462,000
Pointing out that an 18-carat solid yellow gold mobile phone doesn't do email is like criticizing a finely crafted wristwatch for not being able to play Angry Birds. Swiss master designer Yves Béhar made a purposeful choice: "I wanted to show an alternative to the sea of smartphones and their deluge of features. In an age when the industry seems to think that phones aren't for speaking anymore, I wanted to focus on the idea of voice, clarity and simplicity." In other words, it was created with a minimalist mindset to be an intuitive, evocative experience.
DISCOVERY: Watch all new episodes of Gold Rush on Fridays at 9p e/p.
To realize that experience on multiple levels, this device has evolved the past few years from a collaborative effort. For instance, the acclaimed London-based Tom Hingston Studio created custom typefaces for its bevy of Latin, Cyrillic and Chinese fonts. And Vietnamese-Danish 'master of the upright bass' Chris Minh Doky composed original sounds for the ringtones, based on his blended take of the phone's connotation, equal parts orchestral, organic and British secret agent.
This hand-assembled, hand-finished metal handset isn't just a luxurious gadget, but the product of multiple engineering feats. Its keypad characters are laser micro-engraved, lacquered and feature advanced LED backlighting. The AE+Y has patents pending for both its edge-key-mounting mechanism and the hand-set miniature magnets required for its sliding covers. It also features extremely precise, seamless lines where different parts and materials meet, such as the two-piece wraparound ceramic upper.
No more than 25 of the gold version of the AE+Y will be made in 2011. For about a sixth the price, you can snag the stainless steel main edition, which is also in limited quantities. Both are unlocked quad-band phones with standard calling functions, texting, Bluetooth, the ability to synchronize with your PIM and other basic but worldly applications. Its battery is good for up to 5 hours of talk or about 10 days of standby. And if you touch the 2-inch TFT screen of this otherwise highly tactile mobile, you'll only smudge it.