A Shoulder Holster for the Rest of Us: The Secret Agent Phone Holster
Are you still carrying your phone on your belt in that cheesy original holster? Or even worse, in your pocket? Step up your style with this cell phone holder! Novelty wholesaler Thumbs Up just enabled a whole new level of smart phone sophistication with their Secret Agent Phone Holder: "Worn like a real FBI-style holster [...]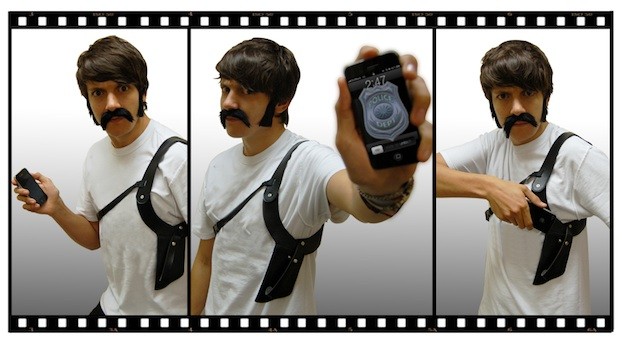 Are you still carrying your phone on your belt in that cheesy original holster? Or even worse, in your pocket? Step up your style with this cell phone holder!
Novelty wholesaler Thumbs Up just enabled a whole new level of smart phone sophistication with their Secret Agent Phone Holder:
"Worn like a real FBI-style holster (that's the kind that you wear around your shoulder and do up across your back so it can't be seen under your jacket), this fun phone holder is an ingenious way to keep your mobile close at hand. Plus, there's no denying it's seriously good fun to whip out your phone like you're reaching for your gun every time you need to make an important phone call!" –
The holsters come complete with some 70′s style stick-on sideburns and a moustache, for the full Starsky and Hutch experience.
As Thumbs Up is a wholesaler, the minimum order is ten of these sassy holsters, but surely you can convince nine of your closest friends to go in with you on an order.