A New Take on the Dual-screen Smartphone
T-Mobile's LG DoublePlay slides open to reveal a physical keyboard with a small utility screen in the middle of it.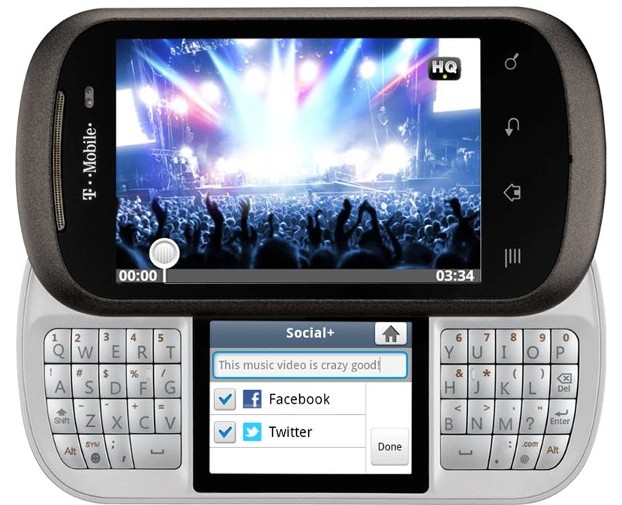 LG C729 "DoublePlay": $399.99 SRP
A decade ago, flip phones featured an additional, small external screen for quickly identifying the time or caller. More modern gadgets, such as the Kyocera Echo, gScreen SpaceBook and Sony Tablet P are attempting to offer a familiar form factor that unfurls to double their respective devices' fully functioning display real estate. And the versatile Sideline Cinq laptop accessory speaks to business productivity through multitasking.
The LG C729 (aptly nicknamed "DoublePlay") stands on the shoulders of its fellow multi-monitor-minded mobile devices, by offering an additional small screen in a somewhat familiar form factor that adds versatility and enables easier social and entertainment multitasking.
DoublePlay's 3.5-inch main and 2-inch inner displays are both capacitive and customizable. They can act independently (watching T-Mobile TV on the bigger screen while messaging on the smaller) or in tandem (scrolling through and selecting site bookmarks on the smaller while browsing on the bigger). Other small-screen exploits include viewing photos, cuing music, updating your social feeds and texting.
Speaking to the latter, this 4G-capable Android 2.3 smartphone was the weapon of choice at the recent 2011 National Texting Championship held in NYC. This year's champ is Wisconsin's Austin Wierschke — try texting that five times fast! Anyway, we're guessing Austin was a master Swyper, because even allowing for the learning curve, we found hunting and pecking on this split QWERTY awkward.
While separating a regular computer keyboard's keys physically looks weird, it actually feels natural (at least for touch typists) and is more ergonomic. By contrast, texting for us involves a Ouija-like method in which our two thumbs hover together, striking keys irrespective of what might otherwise be the proper side of the keyboard. So separating our thumbs on the DoublePlay left us with strained eyes, from darting back and forth between either side and the screen to ensure we weren't mistyping.
That might seem like a dealbreaker; but it's not, due to DoublePlay's multiple other input options. In addition to both typing and Swyping on vertical and horizontal iterations of the virtual keyboard plus voice-to-text dictation, this phone can "cloud text" from a PC or tablet. And it has plenty of other cool features, such as a safe driving app, Wi-Fi sharing and calling, multilevel security software, and multiple tethering methods.