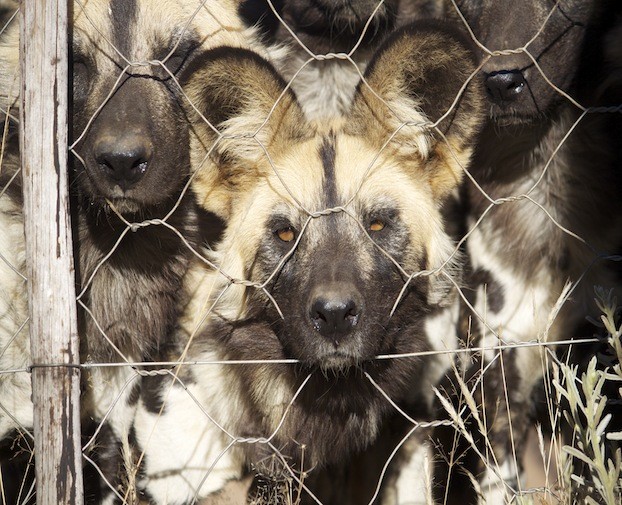 Photo: Stephanie Pearson
"I don't want to see animals in captivity. Marlice wants to cuddle them in our bed," says Rudie van Vuuren as we stand behind a fence and watch a pack of wild dogs—the most endangered animal in Namibia—leap for a hunk of horsemeat. We're taking a tour of N/a'an ku sê, a non-profit wildlife sanctuary 30 miles west of Windhoek, also known in U.S. conservation circles as a sanctuary for Brangelina. The couple and their family have visited the refuge twice. Last time, in 2010, the Jolie-Pitt Foundation donated $2 million to N/a'an ku sê.
Van Vuuren, a medical doctor and former World Cup rugby and cricket player, and his wife Marlice, the daughter of wildlife conservationists who grew up in the bush speaking a local San dialect, are currently rehabilitating 35 baboons, 26 cheetah, 15 wild dogs, five leopards, five lions, and two zebra on their 10,000-acre sanctuary.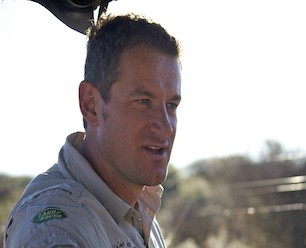 Photo: Stephanie Pearson
The van Vuuren's mission, "conservation through innovation," which they accomplish with a permanent staff and a host of rotating international volunteers, is wide-ranging, ever changing, and requires 24-7 attention.
Consider the wild dogs we're watching: When a farmer threatened to shoot the whole pack if the van Vuurens didn't want them, Marlice, who was pregnant, agreed to take them. She woke up three times every night to feed them. According to Rudie, it's the only case in history in which an entire pack of wild dogs has been successfully raised in captivity.
"The animals you see here are ambassador animals," Rudie explains. "Most animals on the property you will never see because we want to reintroduce them to the wild." For some  animals that's impossible, adds Rudie, because they've already lost their fear of humans. "Those that we put back into the wild, we do. Those that we can't, we keep them."
While Marlice's specialty is rehabilitating and caring for the animals, Rudie has developed what amounts to a CSI crime team for tracking animals that Namibian farmers suspect are killing livestock. With his team of field researchers, biologists, and Bushmen trackers, Rudie uses sophisticated technology like camera traps and Footprint Identification Technique (software that can measure a cheetah's print so accurately that it can identify its siblings), to determine which predator is doing the killing. Oftentimes it's not the animal the farmer thinks it is.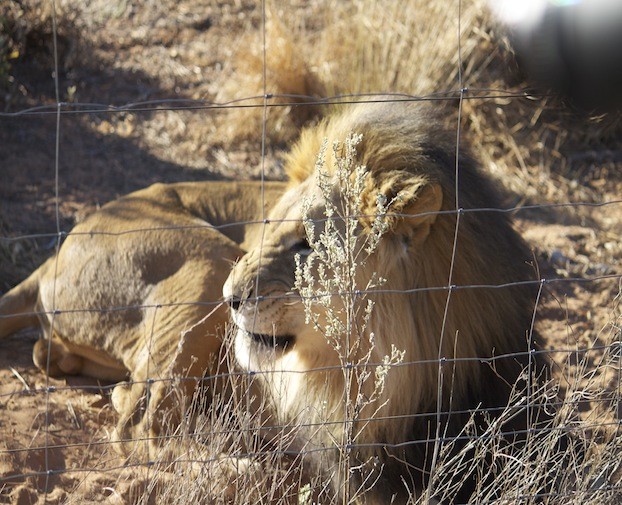 Photo: Stephanie Pearson
When we finish watching a lion paw the ground, impatient for its hunk of horsemeat, we hop back into the Land Rover and arrive at three cheetahs sprawling on the sand. Rudie points out Kiki, the cub made famous by its photo op with Angelina Jolie.
"That's the cheetah that was featured all over the world with Angelina," says Rudie. "Kiki was recently featured in a Russian lingerie shoot. I was the unlucky handler for that shoot," he laughs.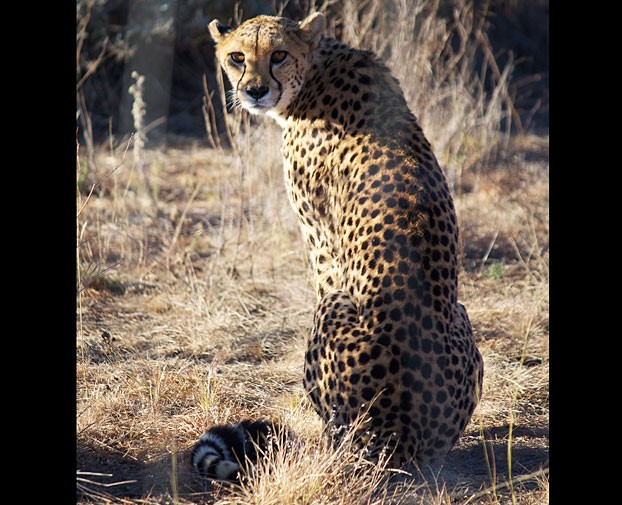 Photo: Stephanie Pearson