A Barbecue, in the Middle of a Lake
Just because you're in the middle of the Pacific Ocean doesn't mean you can't have a hot meal. The Floating Flamer brings the barbecue to you when you're off kayaking, swimming or hanging out with dolphin friends. READ MORE: How to Use Liquid Nitrogen to Make the Perfect Hamburger The buoyant grill comes in two [...]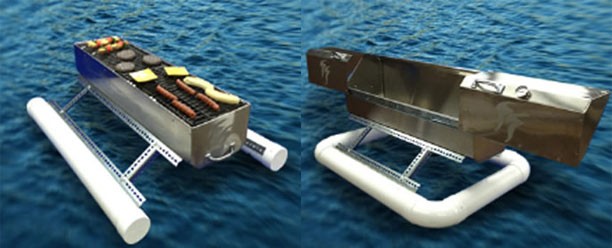 Image: Floating Flamer
Just because you're in the middle of the Pacific Ocean doesn't mean you can't have a hot meal. The Floating Flamer brings the barbecue to you when you're off kayaking, swimming or hanging out with dolphin friends.
The buoyant grill comes in two versions: the Topless Model and the Grand Flamer. The topless grill (left) is ideal for smaller parties and weekend trips, and should fit in the back of a pickup. The latter is suited for large gatherings and weeks-long outings to the lake.
Though there are two prototypes available, the grill seems a bit precarious. What if a jet ski runs into your barbecue pit in the middle of the water? How does the griller balance himself and avoid cooking himself? We'll have to keep tabs on this product as it develops.