9 Inspiring Adventure Athletes You Should Be Following on Twitter
If you're the kind of person who likes to get outside and take on challenges that may induce heart attacks in your friends and family - aka an extreme or adventure sports fan - you're going to like these people. And if you're on Twitter, you'll want to follow them. The nine athletes range from [...]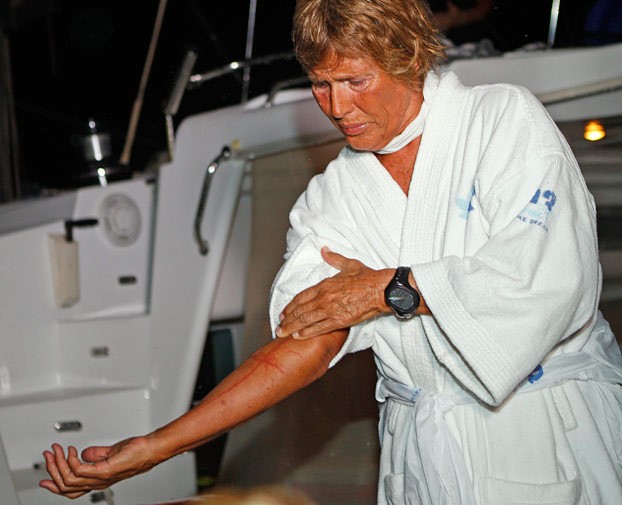 Photo: Michael Marreo/Florida Keys News Bureau via Getty Images
If you're the kind of person who likes to get outside and take on challenges that may induce heart attacks in your friends and family – aka an extreme or adventure sports fan – you're going to like these people. And if you're on Twitter, you'll want to follow them.
The nine athletes range from the mega-famous to the virtually unknown; they are runners, skaters, explorers and jacks of all trades. Their tweets are at turns funny and inspiring, and offer a look into the private lives of the few who have made the extraordinary an everyday affair.
1. Diana Nyad (@diananyad)
Diana Nyad is a world champion long distance swimmer and broke numerous world records during the 1970s, before leaving the water for a full 30 years. Now in her 60s, she's back at it, and has been vying to complete the swim from Cuba to Florida she first attempted in 1978.
Diana is proof that youth is hardly the determining factor in what you can accomplish. Her tweets reflect her positive and inspiring attitude, and she's very responsive, so chances are you can get a shout out!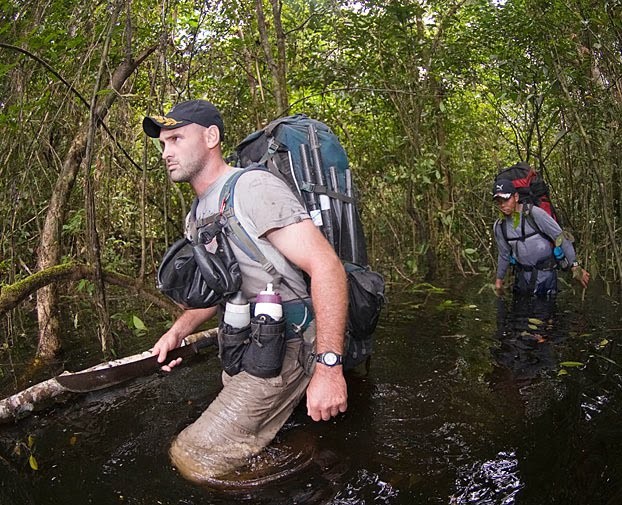 Peter McBride/Aurora Photos/Corbis
2. Ed Stafford (@Ed_Stafford)
Ed Stafford is one of a rare breed these days: a professional adventurer and survivor. He's also the reigning European Adventurer of the Year. In August of last year, he became the first man to walk the entire length of the Amazon River, a feat that took him 28 months.
He leads remote expeditions all around the world and works with the United Nations in Afghanistan. If you want to know what he's up to now – and where he's going next – follow him on Twitter.
3. Mark Jobman (@adventurechrons)
Following Mark is the easiest way both to connect with him and get the best of his online community, Adventure Chronicles. He dabbles in rafting, mountain climbing, kayaking, hiking, surfing,  environmental advocacy, and all sorts of outdoor activities.
Adventure Chronicles also features gear reviews and articles on everything from ice caving in Patagonia to the importance of group decision making while traveling in numbers.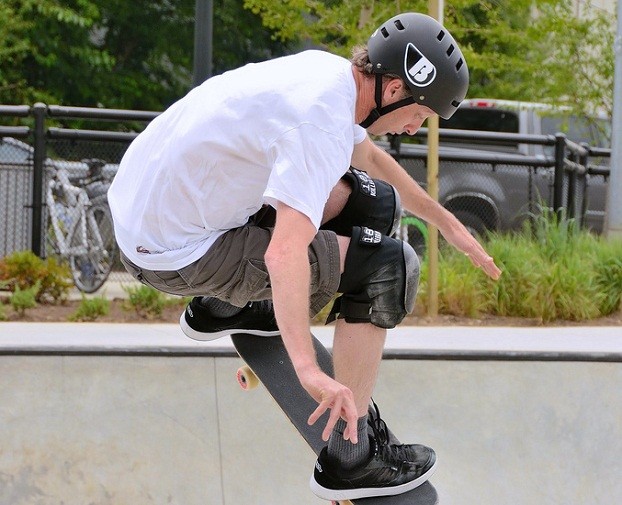 4. Tony Hawk (@tonyhawk)
The legendary skater no longer competes, but he remains an influential figure. Becoming one of Hawk's more than two and a half million followers is a great way to keep your finger on the pulse of the world of extreme sports.
He also plugs the Tony Hawk Foundation, which builds skateparks in low-income communities, and is good for the occasional Tweet that has nothing to do with skating:
Our wired society, as summarized by my son: "Hey dad, can we get a table at breakfast near an outlet? My laptop is about to die."
5. Matthias Giraud (@matthiasgiraud)
Matthias is Hawk's polar opposite in terms of public recognition. But what the professional skier and BASE jumper lacks in Twitter followers, he makes up for in guts and creativity. AKA "Super Frenchie," he goes from outracing avalanches by jumping off cliffs to combining skiing and BASE jumping on the Matterhorn.
He's worth following, if only to keep up with his latest stunts and videos.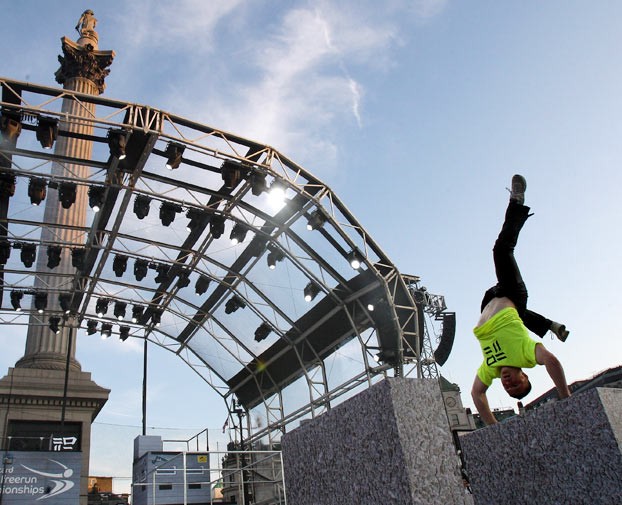 Chris Jackson/Getty Images
6. Tim Shieff (@TimothyShieff)
Tim Shieff is one of the parkour world's masters. He won the 2009 Barclaycard World Freerun Championship, and was a finalist in MTV's 2009 Ultimate Parkour Challenge
His tweets, like his Tumblr, are a mix of inane jokes, music videos and his own exploits. (Warning: he is partial to explicit language.) He tweets a lot, and most of his comments can be dismissed at a glance. But there are plenty of gems as well, weighted more to the humorous than the profound.
7. Rebecca Rusch (@thequeenofpain)
Rebecca is a world-class endurance athlete, regularly taking on 24 hour bike races, cross-country skiing, whitewater rafting and ultra-marathons. This year, she started and organized the "SRAM Gold Rusch Tour," a series of ride initiatives for women.
Her tweets are full of pictures and videos, so you can keep an eye on one of the more impressive women in sports.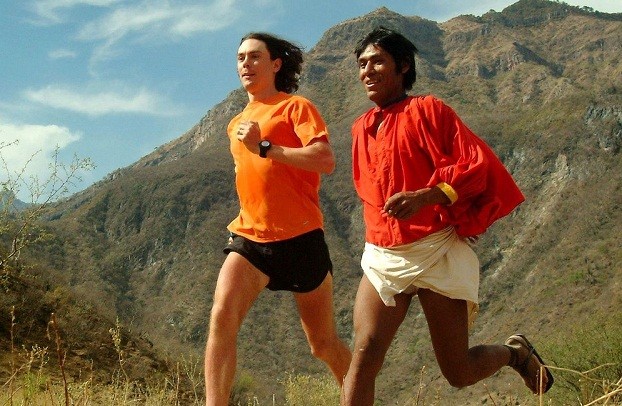 Scott Jurek, left. Photo: Wolf Gang / CC
8. Scott Jurek (@scottjurek)
Scott Jurek is the definition of ultra-runner. He's won five different 100+ mile races (one of them seven consecutive times), and has been named Ultrarunning Magazine's Ultra-Runner of the Year three times.
He is also a strict vegan, featured in the New York Times bestselling book Born to Run, which called him the best ultrarunner "arguably of all time." Follow him for running advice, heads up on when he'll be speaking, and reminders that anyone with enough will can achieve the amazing.
9. Ray Zahab (@RayZahab)
I once spent 24 hours in the Sahara Desert - it was exhausting, and I spent most of it on a camel or in a tent. In 2007, Ray Zahab and two others ran across the entire thing — running 40+ miles every day, for 111 days (and got a movie made about it).
The run inspired Ray to fight for clean-water initiatives in Africa. He soon founded impossible2Possible, which encourages young people to "use adventure as a medium to educate, inspire and empower our global community." Follow Ray to keep up to date on his adventures and those he inspires.