7 Questions for Padma Lakshmi on Bali Beach Parties, Nasi Goreng, and Sticky Sweet Ribs
If you've watched Top Chef, you know Padma Lakshmi as the incredibly beautiful, Emmy-nominated hostess that gives the contestants their weekly challenges and presides over the judge's table. But you may not know Padma is also an award-winning, best-selling, cookbook author and entertaining expert. Padma is currently hosting a contest with Sterling Vineyards to find [...]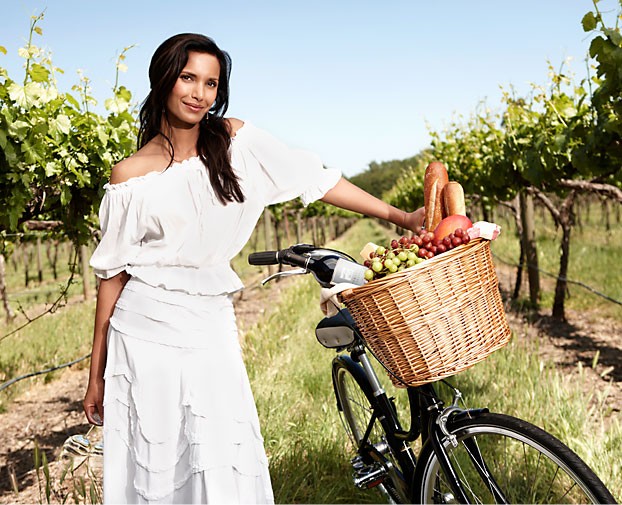 Padma Lakshmi wants to up your party hosting skills (Photos: Sterling Vineyards)
If you've watched Top Chef, you know Padma Lakshmi as the incredibly beautiful, Emmy-nominated hostess that gives the contestants their weekly challenges and presides over the judge's table. But you may not know Padma is also an award-winning, best-selling, cookbook author and entertaining expert.
Padma is currently hosting a contest with Sterling Vineyards to find the Ultimate Host, issuing challenges to anyone who wants to prove their party prowess. The grand prize winner gets to be their Ultimate Host for a year, a trip for four to Sterling Vineyards in Napa, tickets to the Pebble Beach Food & Wine festival, and $25,000. Not bad for throwing some unforgettable bashes.
So I sat down with Padma to get some of her favorite party-throwing tips, find out how to have a fantastic date at home, and what wine goes best with barbecue.
Your contest is about hosting parties. What is your top tip for making an event, whether it's a dinner party or a game day cook out, successful and memorable?
Attention to detail is key. Rather than just putting food out for your guests, think about a theme and follow it though. For example, if you are having a movie night, you could use "La Dolce Vita" as your theme. Then make the food and music match that theme. You can serve pasta and cannolis and play vintage opera music. It makes it fun and you can take it as far as you want and as literally as you want.
What's the best way to handle the food for a large party?
If I'm hosting more than 10 people, I'll do a buffet or cocktail party with lots of tapas and passed hors d'oeuvres. No need for knives and forks, I want things they can pick up with their fingers and enjoy.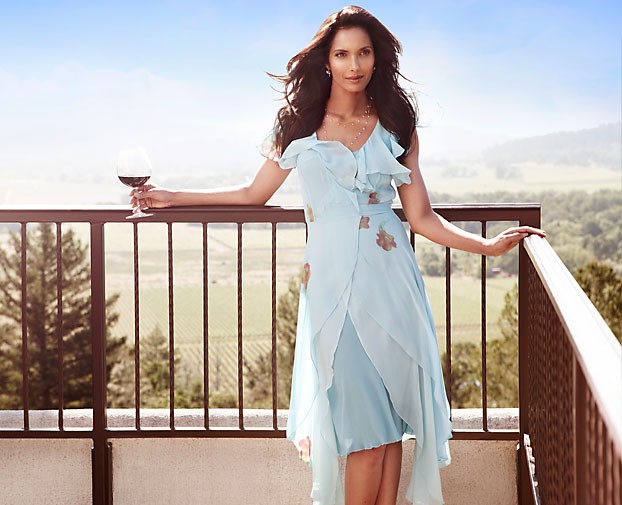 Does "dinner party" food always have to be fancy? Or can it be fun?
I do a charity event for a foundation, and it's a black tie affair and Sterling provides some beautiful wines. We have 450 guests who pay $1000 per plate, and this year we served green chili and cheese tamales wrapped in corn husks. Far from a "fancy" menu, but the food was really delicious and people were licking their plates. That's what's most important.
What's a good menu when cooking for a date night?
Three things to remember: 1. Don't go crazy on a theme, 2. Set achievable goals, and 3. Don't make anything you haven't made before.
I suggest making something simple, like a nice roasted chicken. Keep in mind, if she said yes, it's because she wants to be with you, not because of your chicken cordon bleu. So ask her what she likes, and listen closely. For instance, if she says she's been to Mexico several times on vacation, make something Mexican for her.
And always set a romantic mood. Some foods like a steamed artichoke where you are using your hands, sharing the food and licking your fingers, can be very sexy, and an aphrodisiac.
When you're traveling, what's your favorite place in the world for food?
Bali is my favorite place. It's amazing not only because of the food, but for its natural beauty and nightlife. There are lush landscapes, beach parties and dancing until dawn.
And the food is incredible. It's a confluence of all Asian cuisines — in the same restaurant you can have Chinese, Thai, Balinese, Indian — and it's all super fresh seafood and veggies, with fantastic spices.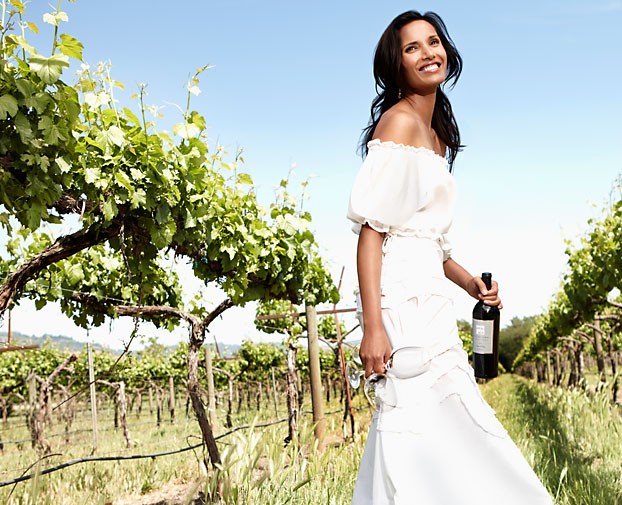 What's your favorite dish when you're there?
Lately I've been obsessed with Lingham's hot sauce, but my favorite thing is Nasi Goreng with a fried egg on top. It's like Cantonese fried rice on steroids and can have bits of chicken or seafood in it, and I love it with kecap manis (a sweet soy sauce with a syrupy consistency).
Any suggestions for wines to serve at a barbecue?
When it's really hot out I like to have an ice cold sauvignon blanc and when the weather gets colder, a pinot noir is good to have. Barbecue and red wine go really well together. Sterling makes some great high end merlots and cabs that pair well with a beautiful roast or a slow cooked brisket. At your next barbecue, try a cabernet with some sticky sweet ribs, and make sure to add some coarsely ground black pepper into the sauce. That's something you're guests will absolutely love.