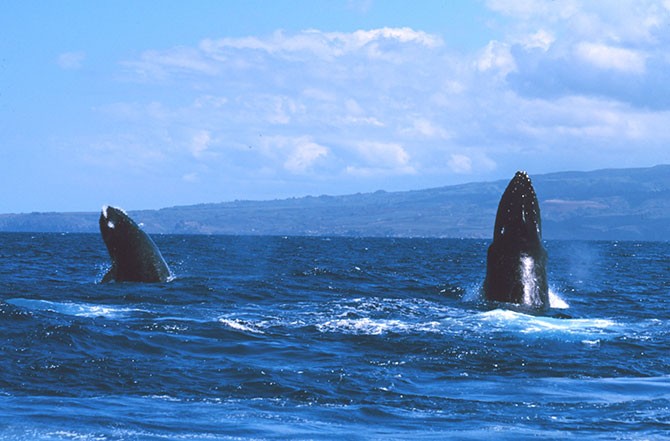 Humpbacks rise from the water off the Big Island's Kona Coast.NOAA
The Kona side of the Big Island of Hawaii has some of the world's best sea kayaking. There are sheltered waters and many remote coves on the west side of the island. Just check the weather and ask the locals where to put in for the day, then paddle away. Many places rent kayaks, and there are guided tours of all kinds. You really can't go wrong. Just beware of the whales. Really: Humpback females come to these waters in the winter to give birth and they can give you quite a start when they start slapping the water near you with their tails. For more info, google "Big Island kayaking."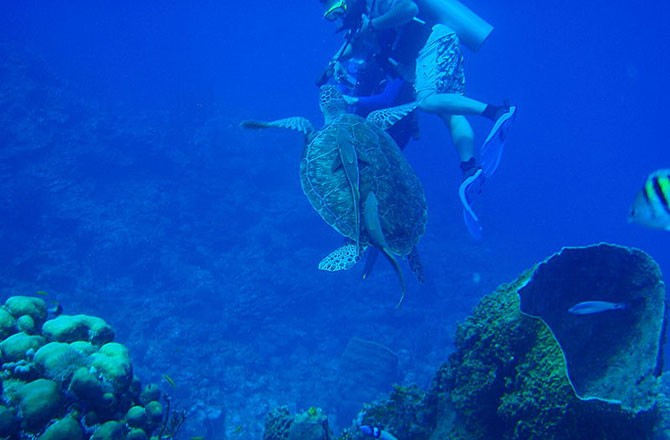 A snorkeler gets a close look at wildlife along one of Belize's unspoiled coral reefs. Andy Blackledge/Wikimedia Commons
Along the coast of Belize there are many places you can find a subtropical kayaking adventure. Highly recommended are the small cays in the newly created South Water Caye Marine Park, which is rich in coral-reefs fishing and mangrove byways. Snorkeling is part of the package when you paddle around here, as there's as much to see under the water as above. The best time for kayaking in Belize is during the winter dry season, when temperatures can range from 70 to 100 degrees F with high humidity. Good kayaking weather can extend as far as May, before the regional climate takes all the fun out of exploring. There are many professionally guided trips you can read about online.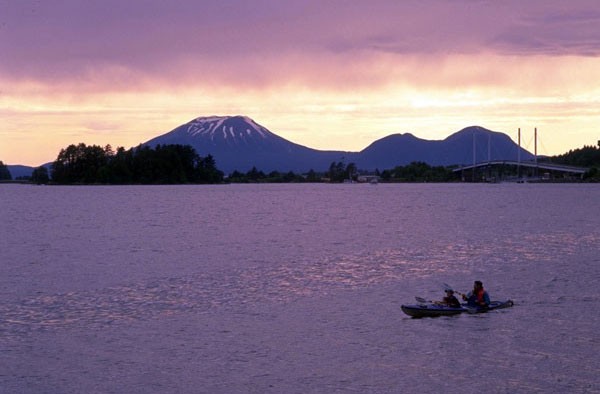 Kayakers paddle near Sitka, Alaska.ATIA
If tropical waters aren't your thing -- or it's summer you have off -- Alaska's Inside Passage is loaded with kayak and canoe adventures. You could spend every summer of your life paddling these waters and never see it all. Instead of coral reefs, you have forested mountains, whales, seals, birds, about 1,000 islands and 15,000 miles of shoreline to explore. The inside passage is ideal for kayaking because, as the name implies, its waters are protected from the stormy north Pacific Ocean by all those islands. You do have to beware of the strong, 30-foot (9-meter) tides, however. They're unlike anything you'll find in the tropics, where you hardly notice the tides. So go with a guide. There are loads of commercial tour operators available online.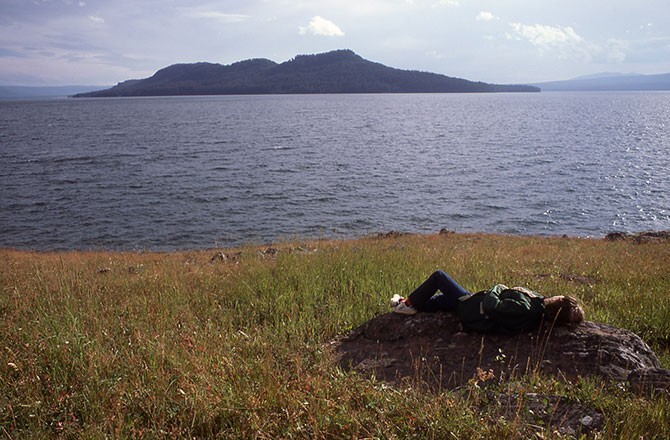 J. Schmidt/NPS
Kayaks are quiet, which makes them perfect for sneaking up on the veritable diorama of wildlife that can be found on Yellowstone Lake in Yellowstone National Park. Where the Yellowstone River enters the lake, there's a wild lush delta with easily explored channels loaded with eagles, swans, sandhill cranes and lots of smaller birds. On the ground are bison, grizzlies (of course), wolves, moose and elk. Getting to this part of the lake requires days of paddling or shuttling from Bridge Bay Marina. If this is firing up your imagination and wanderlust, start planning with a visit to the Yellowstone National Park's online info on boating: http://www.nps.gov/yell/planyourvisit/boating.htm.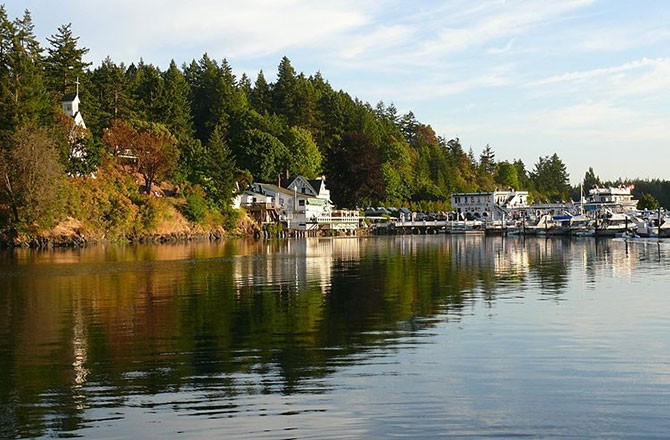 Michael Feist/Wikimedia Commons
Some of the world's best sea kayaking is around the San Juan Islands in Washington. Unlike tropical sea kayaking, here the waters are cold and rich in food that supports a vast array of wildlife. The largest of these are the whales, porpoises, otters and seals that are common from April to September. There's a huge variety of outfitters to choose from if you want a guide. Otherwise, bring your own boat or rent one and launch from San Juan Island National Historic Park, which also offers many other, less strenuous activities: http://www.nps.gov/sajh/planyourvisit/things2do.htm.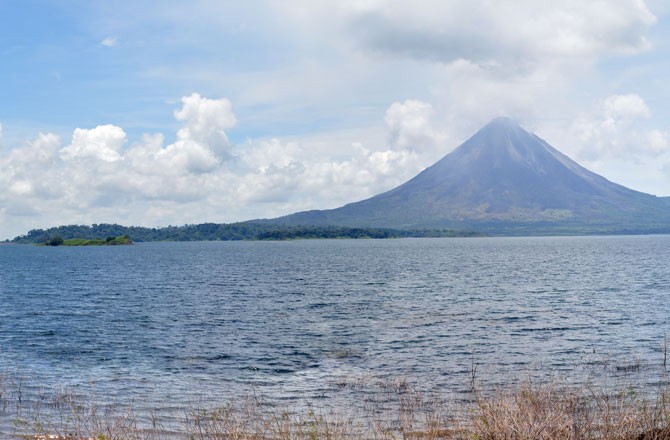 Arenal Volcano rises above a beautiful lake for kayaking in Costa Rica.Ksaraf/Wikimedia Commons
There are way too many choices for kayaking in Costa Rica. So we'll just focus on Lake Arenal, which has stunning vistas of the sometimes active Arenal Volcano. Both the lake and the volcano are in the northern highlands of Costa Rica, in the Arenal Tilaran Conservation Area. The lake is popular with windsurfers, sailboarders, fishermen, kayakers, bird watchers and, well, you get the idea. This is a spectacular place for anyone who likes water sports and a almost surrealistically beautiful setting. There are a number of outfitters who can help you visit and kayak Lake Arenal. Here's just one to get you started: http://www.anywherecostarica.com/attractions/national-park/lake-arenal.