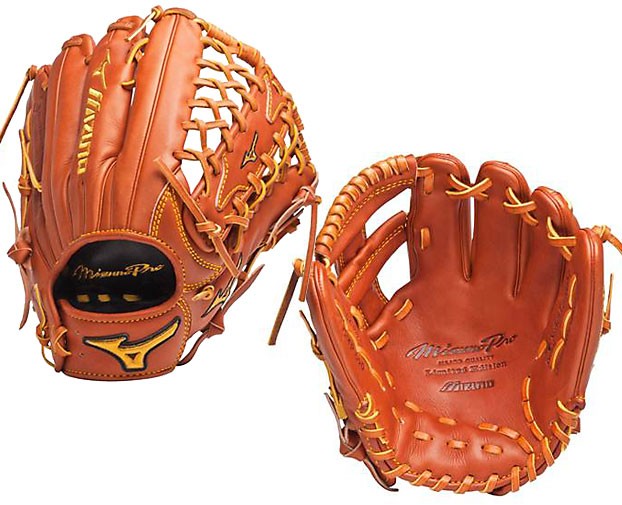 The Mizuno Pro Limited glove comes with its own service plan and off-season conditioning program (Photos: Mizuno)
We've got chrome-plated super cars,  diamond encrusted iPhones, and gold-plated golf clubs, so why not a state-of-the-art, high-end, $500 baseball glove? One that comes complete with its own service plan and an off-season conditioning program to make sure it lasts forever and fits, well, like a glove.
Mizuno's new Pro Limited Edition baseball glove is designed for elite-level players… and those of us who dream of being elite-level. Made from the finest Japanese Deguchi-tanned Northern European Kip leather — offering the tightest fibers and proprietary tanning — the Mizuno Pro Limited features perfectly conditioned leather, stronger than any glove on the market.
Inside, the Pro Limited is lined with a Shika Palm Liner made of elite deerskin for an unbelievable soft feel while you're out in the field, and the glove is engineered with Mizuno's Speed Drive Technology that provides the perfect balance needed for each position on the diamond to provide the fastest reaction response possible.

The Pro Limited comes in 10 models for all positions including (l-r) catcher, pitcher, and first base
Remember your first baseball glove? How you and your dad had your own tradition for softening the stiff leather by rubbing it down with oil, putting a ball in the pocket, tying it with a shoelace then putting it under your mattress for a few days? Not with the Pro Limited. During the off-season, Mizuno will condition the glove perfectly for you using the company's Strong Oil application, ensuring it stays soft and supple for shagging flies or fielding grounders.
And with their industry-first service plan, you don't have to worry about repairing your Pro Limited after giving it a workout all season. To support the company's craftsmanship and give the glove and its owner the special treatment you deserve, the program's menu of service options include re-lacing of the web, fingers, heel, thumb and pinky, along with replacing the pinky and thumb felt. And just to protect that high-end leather even more, the Pro Limited comes with a complementary glove bag for storage while off the field and your car's trunk.
The Pro Limited comes in 10 different editions — specifically designed for pitchers, catchers, infielders, outfielders, and first basemen — and each one comes with an exclusive, individual serial number. So your boss doesn't "accidentally" grab yours at the company softball game.